Is Alcoholism Inherited?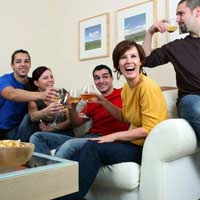 For people who struggle with alcoholism, a big question is whether it is inherited. As we try to find newer and better ways to prevent alcohol abuse, understanding what causes alcoholism remains important. If your parents were alcoholics, does that mean you will be too? Or, is it all related to your environment and upbringing?
While there is now enough research to suggest that genes play a role in the development of alcoholism, we are far from identifying all of the genes involved. Most experts believe that it is a combination of genes and environmental triggers that come together to cause alcoholism.
Looking at the Research
There have been many studies conducted on animals and humans to find out if there is a genetic aspect to alcoholism. In research on children of alcoholics, scientists found that children who have alcoholic parents are significantly more likely to become alcoholics. Still, it is thought that environmental factors are a part of it all.
Twin Studies for Alcoholism
When looking at twins, particularly those who have been adopted, researchers have found that alcoholism is more likely to occur in families. One European study investigated twins who had been raised apart and were adopted. It found that where twins had some exposure to alcoholism in terms of their adoptive families, they were only slightly more likely to become alcoholics themselves.
But where these adopted twins had a biological father who was an alcoholic, the likelihood was much higher. This was seen no matter what the incidence was of alcoholism in the adoptive families.
Genes for Alcoholism
It was also just over a decade ago that a researcher identified a key gene that is linked to the development of alcoholism. Scientists are now even using fruit flies as a way to find out about genes and alcoholism. Similarities between humans and fruit flies have made them an intriguing part of research into how our genes influence alcoholism.
Since then, a number of other genes have been linked to the development of alcoholism. More recently, a group of researchers studied gene sets. They believe that rather than looking at individual genes that link to alcoholism, we should focus on sets of genes and patterns that increase a person's risk of alcohol abuse.
Mice Studies and Alcohol Genes
Yet another study looked at mice and genes that increase sensitivity to alcohol. The researchers bred one strain of mice that were sensitive to the effects of alcohol. Then, they bred another strain that were not sensitive to its effects. When they looked at the differences in how the mice behaved, they found some significant contrasts.
Mice that were very sensitive to the effects of alcohol went into a sleep stupor very rapidly. They also were more likely to have low inhibitions. Mice that were not very sensitive to the effects of alcohol had greater control and were less likely to lose their inhibitions. They were even capable of handling the alcohol for a greater amount of time before they passed out.
Preventing Alcoholism
Learning more when it comes to how genes influence alcoholism is important. Those who suffer from alcohol abuse or know someone who struggles with it can all attest to the devastating effect alcoholism has on many people. As researchers continue to study the human body and our genes, we will hopefully find better ways to identify those most at risk of alcoholism.
While the link between our genes and alcoholism is an important one, we must not assume it means that alcoholism is the destiny of some people. Environmental factors still play a vital role. But through research into genes, we can hopefully find ways to identify those most at risk and put prevention strategies in place to protect those who need it.
You might also like...