What Happens When you Quit Drinking?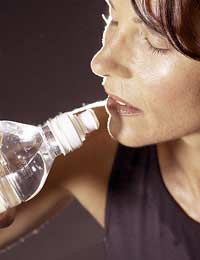 Once an alcoholic has made that all-important decision to quit drinking, the journey has begun. Giving up alcohol is going to take will power and commitment and there will be a need for plenty of support from family and friends and through therapy and rehabilitation.
Making the decision is the most important factor in giving up. Until an alcoholic reaches that milestone themselves, and effort on anyone else's part is pointless. Alcoholics will lie to themselves, and pretend to others that they are giving up, but if they are doing it in response to someone else's incentivising, it won't last. It has to come from them.
Taking the plunge to give up can be a very frightening decision for an alcoholic, and it can often take years to arrive at that point - in all honesty, some never get there - and quitting can be really hard. So it's important to put a plan into place before taking the plunge.
First Steps
The first stage is to get past the withdrawal process. Anyone who has been habitually drinking for a long time heavily and/or on a daily basis is going to be alcohol dependent, and will have to deal with a few rough days as the body gets used to going without alcohol. Cutting down before quitting can help, but set a time limit on the period for reduction.
Decide whether you will need residential treatment, or if you are OK to quit at home. Seeing your GP at this point is a good idea to get some help and advice on treatment and medication.
Depending on the level of addiction, withdrawal symptoms can sometimes be severe, but will usually include some shakiness, anxiety, sleeplessness and of course cravings. Go into this fully prepared, ask for some sleeping tablets or calming medication, and ensure a good supply of sweet soft drinks are on hand. And get rid of all the alcohol around you. Temptation is too much at this stage.
After Detox
Once the first few days are passed and the worst of the withdrawal symptoms are over, rehabilitation will start to settle into some kind of easier routine. Dangers to watch out for here are wondering what to do with the time. Time that is normally spent drinking or drunk suddenly presents itself, and idle hands and the devil are good companions. You are going to be drained physically, so get some DVDs, spend time sleeping, and start to ease yourself back into a more normal routine. Try to eat well, inspire yourself with good food. Your body will appreciate it!
Therapy
It's a proven fact that those who give up without some kind of therapy or counselling support have a much, much higher chance of failure and relapse than those who seek help. If it's there, take it. Choose the type of therapy that suits you, whether it's one to one counselling, AA meetings or deeper analytical therapy. Alcoholism is a disease, and you might feel there might simply be no deep-seated reason for it to start searching for, so why bother with the therapy? But the point is that you will have missed out on a lot during the drunk times, and probably caused damage to those around you. It's time to face up to it all before you can move on.
Maintenance
Once you've quit and started building a fruitful life again, it's tempting to forget the dark days, even to imagine that you can control the drinking now you're back on top, and enjoy alcohol in moderation 'just like everyone else'.
The chances of this are slender, and staying clean and sober is a long and sometimes difficult path. Ongoing support from, say, Alcoholics Anonymous will help. Some members will have been going for years and it's a good way to keep on the straight and narrow. Above all, you need to put in place safeguards to stop you falling off the wagon. Not only that, but ways to get back on if you have a relapse. You don't want any kind of wobble to plunge you back into long term addiction again.
Buddies
A Buddy is a voluntary counselor or mentor that you can develop a personal connection with. He or she will be a reformed alcoholic or addict themselves and they are someone you can turn to in times of weakness or temptation, providing valuable support and inspiration long term.
One Day at a Time
Above all, stay positive and take one day at a time. Be realistic - it's not always going to be easy and there will be hard times. It's hard to break habits, and the craving for alcohol will almost certainly make itself felt. But if you wake up each day feeling resolute and positive, and go to bed each night without falling off the wagon, then you're doing well and need to recognise what a great job you're doing.
You might also like...
My partner has been a heavy drinker for 40 years.he know wants to stop and says he has cut down to quickly.his eyes are tinted yellow so is his skin.is it right to cut down graduallt
Sonj
- 8-Dec-18 @ 9:39 PM
@Ems. Thank you so much for taking the time to come on here and tell us about your own experiences. It is one of the most difficult things to do and yet you managed it - be proud! We hope the fact that you feel so much better now has inspired others too.
AlcoholIssues
- 11-Jun-15 @ 12:03 PM
I am an alcoholic. I have stopped drinking. I could start in the morning and go on all day. First drink I would be sick but after that I would start to eass the necessity of alcohol symptoms until drunk-sleep-guilt- drink again to feel better. For the first time I have quit for myself. Felt ill ,sick, shark paints under my ribs, lost my appetite, yellow eyes, bleeding gums, sweats specially at night, itchy feet, and much more.Gave up drinking for only me for the first time. Previously was for other people and did not work.First four or five days- symptoms anxiety for needing the stuff, consequently being sick, with an empty stomach, sleepless nights, sweets, shakes. It was horrible but I asked help from several gps unsuccessfully. It is the best thing I have done. I feel good, I eat, take care of myself, I can think straight, remember everything I have done through the day, I can sleep and the most important is I am sober and done it just for me. It was hard, twenty two years drinking on and off but never really stopping. Would lock myself in my house drunk for two or three weeks loosing track of time, days, weekends, months! Looking back it was horrible, not only for me but the people that love me.I have done it for me. Nobody trusted me anymore, hiding and hiding, lies, letting everybody down. Unreliable specially my girl which I lost custody a long time ago.I feel great, positive, healthy and ALive again.Thank you for reading!!Ems
Ems
- 7-Jun-15 @ 11:42 PM