Living With an Alcoholic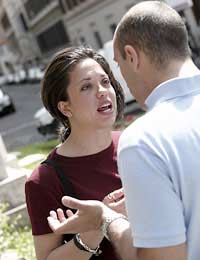 Living with an alcoholic is generally a rollercoaster of a ride. It's hard for those around the drinker to understand that actually they can't help themselves and usually family will find themselves affected deeply. It is a family disease, in as much as it affects the whole household. When things are good and the drinking is under control, then everyone is happy. But when alcohol takes over again, chaos and disorder reign.
Unpredictable Behaviour
It depends on who is the one with the problem as to how unpredictable behaviour will affect those around them, but the alcoholic can never be relied upon to behave in a proper fashion. Alcoholic parents obviously have a far reaching effect on children, causing chaos in the house. In a house where alcohol abuse is prevalent, there will be arguments and abuse, whether it's physical or mental. The alcoholic will be drunk a lot of the time, very often aggressive or emotional. It's a home filled with turmoil and confusion. Nobody knows from one day to the next what is going to happen.
Children
Children often blame themselves when they have alcoholic parents, thinking that it's their fault that mum or dad drinks too much. They will often over-compensate for this by trying to help or plead with the drinker to stop. It can destroy childhoods and cause huge problems in later life, as they will grow up feeling unhappy and just spending most of their time wishing desperately that mum or dad was just a normal, loving parent instead of this crazy, drunken person who can be lovely one minute, filled with rage and violence the next. Alcoholic homes also have a very high incidence of physical and sexual abuse.
Partners
The husband or wife of an alcoholic will find life very difficult. Alcoholics are unreliable, often going missing through drunkenness, failing to turn up when they are supposed to, or turning up really drunk and defensive. Social occasions are a minefield, with the sober partner often having to apologise for behaviour, or even remove the person from a situation because they are out of control.
Domestic violence is a very common occurrence in relationships where alcohol is a problem, and arguments will happen often. Alcohol removes self control, and this leads to unacceptable behaviour and often aggression. Home life will be chaotic, with normal daily patterns such as eating dinner, keeping the house tidy and clean, having friends round or even paying bills completely disrupted and it's completely normal for the partner of an alcoholic to find themselves supporting the drinker in every way. They will feel almost like they're looking after a wayward child as the alcoholic cares little about what's going on around them.
Lies and Deception
A real feature of alcoholism is deception. Lying about the quantity they have drunk, lying about where they have been, lying about giving up – these are all extremely common elements in an alcoholic relationship. It's another extremely destructive pattern, as the person close to the alcoholic will often plead with them to stop, even try to help. It's not going to work, the only person who can effect that decision is the alcoholic, and until that point it's often usual for them to pretend they're giving up or cutting down. But don't be fooled, just when you think they have been sober for a couple of days, you'll open a cupboard and find empties hidden away.
Remorse
Finally there is remorse to deal with. The alcoholic inevitably has to sleep and will very often wake up feeling perfectly dreadful. This is aside from any physical symptoms from the alcohol abuse itself, they will often feel awful about what they have done the day before, swear to get clean, apologise profusely to those they have hurt around them, and quite possibly mean every word of it. And hope fills the house. But the booze will take hold again and before long things are back on that rollercoaster.
The Recovering Alcoholic
Living with the recovering alcoholic has its challenges too, so be aware of that. That person will never stop being an alcoholic, however long they are sober. And relapses are common. That's not to say it's hopeless, there are many, many alcoholics who have taken control successfully, but it's a continual process to stay on top of the disease and any partner or family of a recovering alcoholic must also be aware of that.
You might also like...
I read these stories as I sit at my kitchen table. The tears are just streaming down my face. I have just searched and made a call to a psychotherapist to help me come to terms with what I have learned about myself and my recovering alcoholic partner. I feel broken. I have been in my relationship with my partner for 5 years. After @ 18months - 2 years I realised that his drinking was out of hand. My suspicions were confirmed when he asked me to help sort out and make sense of his paperwork because he couldn't find his divorce papers and he needed them.I found bank statements that showed he was spending £800 - £1000 on alcohol each month. He could afford it then as he was earning £55k per year. He did the cutting down thing (or he said he did - I only saw him at weekends). He even went to outreach. But things got worse - he got diagnosed with depression & used this to take extended periods off work - he spent that time in the pub. He was "asked" to resign from his job. It was ok because he inherited more than £50k from a great aunt. I did the classic rescuer thing & got him to move to my area and live with me - providing him a home and a place to have his 2 children to stay. At first his drinking was better,he seemed happy - we were happy together and he job hunted. Within 6 months he was drinking for hours every day, no job hunting & no financial contribution to the house. I was paying for everything and keeping it all going. Eventually he had an accident & was shamed by the nursing staff in A&E to go to an AA meeting. He has been sober for 2 years. Yippeee right? Nope. Alcoholics whether in recovery or not are selfish and self-absorbed people. So yes, he doesn't drink anymore & I'm delighted for him and he has managed to get a part-time job but he is still like a child - sulksand- moody - can't make a decision & expects that the world owes him in some way. In March this year I went into hospital for a major op. I was going to be out of action for a minimum of 6 weeks. I am self-employed & financially responsible for everything so I was obviously concerned but I put stuff in place and he promised to support me and take care of everything. Wrong. The day before I had the op he announced that he was £20,000 in debt and that he was being pursued by creditors & had no means to pay anything.When I asked what he expected to happen now, he said " well I expect you to bail me out because this is a partnership" . I have now recovered and feel about as worthless and stupid as is possible to imagine. what's worse is that I am a qualified counsellor and I can understand all this but I haven't sorted it out. I am so ashamed. I cannot comprehend why I would think so little of myself to have saddled myself with such a man and THAT is what causes me so much distress. I am comingto terms with the fact that Iam as responsible for my situation as he is and that ultimately this relationship will cease.
BeanzandSausages
- 24-Sep-12 @ 5:52 PM
When reading these threads I feel like I'm reading about my life. My now ex partner has always had a drink problem but I'd already fallen in love with him before I realised. He was bad enough before our son was born but once he was born he got so much worse. I eventually kicked him out 7 months later but we stayed in touch. The things he said when he was under the influence of alcohol are unbelievable and hurt me so much. He always said I was to blame as I wound him up. To this day he still will not take responsibility. My children are under the social services because they witnessed so much domestic violence - physically and emotionally. I tried to be amicable for our child we have together and the Ss were really not very happy. He is not allowed to see his son and hasnt for the past 8 months but I tried to keep him updated on his milestones etc through text messages. He would kick off if I ignored him so I text him to keep the peace getting myself into trouble with Ss. He has finished rehab now where he fell off the wagon, kicked off at someone (thankfully not me this time) and got arrested. He is now in a dry house and hasn't had a drink for 3 months but he still blames me and says all I did was wind him up. He still will not take responsibility for his actions. He has made mine and my kids lives a nightmare. He stole money and my credit cards, got me in debt, worked very occasionally which left me to support him, verbally abused me, attacked me, and cheated. Yet he still not (even though now apparently sober can see how wrong he was) he constantly told me I was fat, ugly, a bad mum and rubbish at my job. I now believe I am a worthless and I don't know where to begin to build my self esteem. My eldest son become really protective of me and it has effected him emotionally. Luckily now we haven't seen him for 7 months my son is a much more confident child. My youngest luckily is too young to understand but he has developmental delays which I have been informed could be cos he witnessed the domestic violence. I have changed my number on so many occasions but after a few days felt guilty and worried he would fall off the wagon so I'd give him my new number. He always said if I didn't let him know about our son whilst in rehab it would effect his recovery. I have now changed my number again as Ss have told me now if I have any contact with him they will take my children away. I have blocked him on Facebook and he is not allowed near my house. It is so hard to do cos no matter how much I hate and resent him for what he has done to me and my kids I still love him. But I have to stay strong this time and not cave in for my kids welfare. I am awaiting domestic violence counselling. I have been to al non, only once as it came across they were blaming themselves for trying to control their alcoholic partners when in fact it is the alcoholic trying to control us. My ex would wind me up on purpose if I ever ignored him to get a reaction. He knew w
Marmite
- 7-Sep-12 @ 9:28 PM
My partner drinks to excess 3-4 days a week (usually about 3/4 of a bottle of gin).I try to tolerate this as much as possible, and indulge everything I can, but the insults start, and this leads to confrontations. I am afraid that this will lead to serious violence.I cannot even get an admission of being drunk, although it is patiently obvious to all of our contacts (an ever decreasing band).We have recently made a a house purchase, my partner made the largest contribution, which left them still in the black, my small contribution was all that I had, this is often the source of our conflicts.I am at times suicidal. A few weeks ago I left, after yet another row, and was prepared not to see another day.We have become almost totally dependant on each other.I tried to stop any drinking, but I am encouraged "Just a beer, or just a little glass." to refuse almost leads to violence.Can anyone tell me what to do?
Please.help
- 17-Aug-12 @ 11:32 AM
I did not realise that this was such a widespread problem until reading all these posts. I have recently split up with my partner after 4 years together. I met him as a neighbour who seemed sweet and caring at first. After a few months he moved in with me at first I did not recognise what a massive issue his drinking was gradually causing in our relationship.. He holds down a good jod during the week but still drinks 3 bottles of wine every weekday night.. He will get home early on Fridays and start by drinking his way through a litre of vodka and then wine and beer..By the time I get in from work he is very drunk and talking nonsense this very often turned to verbal abuse in the extreme and very often physical abuse where he actually harmed me. I have turned from an independent self sufficient person into a nervous wreck with very little self esteem..Like many post here when sober he was a pretty nice man but in our free time sober was becoming increasingly rare.. He would continue his drinking by getting up at 5am on both Saturdays and Sundays to carry on drinking. He twisted everything I said into me trying to control him.. I will admit I did not like him seeing his younger brother as he was encouraging him to stay up all night drinking and on the occassions he has done this he has been extremely aggressive towards me when he staggers home. It is a shock for me to feel so lost and helpless now I am on my own he has changed my personality and self esteem much in the short years we have been together. He is also suffers from passive aggressive personality disorder thinking that he is not to blame for any wrong doing..He has been jealous of me socialising and woe betide if I talk to another man when we were out.. He even scared my grown up children from visiting as he was rude and unwelcoming to them in my house..Yes I have been a fool to get sucked into this and let this man overpower me but when you love somebody you always give them another chance and kid yourself you can help them to change..I realise this is not possible and I now limp away both mentally and physically scarred and hope I find the strength to regain the old me.. For anybody reading this I would urge you to take a good long look at your life and have the strength of cjarachter to think of your sanity safety and happiness and find an escape route..
Tired
- 6-Aug-12 @ 3:25 AM
My husband wouldn't admit to a drink problem, he works, he drives, he functions. He doesn't drink daily anymore, but he knows when his next ones 'scheduled'!! He thinks I have the problem with his drinking. What's he doing wrong, he's only socialising with his friends, who also have wives and homes to go to - for now! We all endured and tolerated his drunkenness and associated hangovers throughout the last 25 years, some periods better than others, in the name of security and the love of a good man when sober, and I accept I was complicit in this. Now there's only one child left at home not only am I lonelier than ever, but I can't see my life continuing with his regular drinking. He has already started with the health issues, high blood pressure, obesity. I told him a year ago it was over but the kids persuaded me to give him a chance - how many chances over the years, i've lost count. But, again, for everyone else's sake I stayed. I can completely relate to the previously posted self preservative step way from him emotionally and loss of intimacy. To step over that line again would tell him that what he still does is ok with me, and it isn't. He has cut down but he still has his regular 3/4 social outings a week, all involving alcohol and/or football, and all leaving me on my own for hours He is a lovely, kindperson most of the time but the spectre of his social life is always hanging over me, the anxiety of not knowing whether he will be late or have had too much and I am sick of looking at the same 4 walls while he's out. He's always had a possessive streak which has prevented me doing a lot of things I probably would like to do over the years. But, knowing that this time next year I will only have myself to house/feed/cloth etc I am slowly building my self confidence to reach the point of leaving to make the life I want for me. The exit plan. But the guilt of eventually leaving him is sometimes overwhelming and inconceivable, but I have to do the things I want to, life's too short. Even in the current climate, after all that's been said and done, he says he will always like a drink and will never give up completely, but one drink is never enough and ten is too many. Loving the man, but leaving the drinker. So sad.
So lonely
- 2-Aug-12 @ 12:03 PM
I am 56 and have never been exposed to alcoholism up until now, so I never understood what was happening. I started a relationship with a man a year ago who gave up drinking when we met, he said he could control it, stop drinking when he wanted to. I myself at the time was recovering from a serious operation, was very vulnerable and undergoing Psycotherapy. He was very sweet and kind, although sometimes a little moody, he lost weight and gain his life back, we were happy. He moved in with me after a few months and proved a great mate. He started a small business venture, with which brings stress. As the pressure increased by Christmas, he said he was going to have a drink just for the Christmas period to be sociable, I did not question this, as I had no knowledge, no experience, and trusted his judgement and to be honest had my own wellbeing to concentrate on. Needless to say the drinking only increased. He rapidly gained weight, his face, stomach, feet all bloated. His moods were like a rollercoaster, he would frequently call me names, his favourite was a C@@@, he would later apologise saying he was tired and irritable. Everything I did he would critise, whatever i said he would not believe. I began finding empty bottles of alcohol hidden everywhere. His sleep patterns were erratic. I was beginning to feel verbally abused in my own home and was always unwell with a cold or flu. I tried every angle of being helpful and cheerful ony to be ignored, it resulted in no communication, no physical contact, just constant nagging and carping and critizing and a 'Woe is Me' scenario nearly everyday. I still didn't understand it was alcoholism, I feel so stupid now for not seeing it, WHY? In the end I snapped after another bout of insults and accusations and gave him his marching orders, he went and after I'd calmed down, I tried to speak with him logically and explain I could take no more, I even asked him to come back, but he just screamed at me saying I had caused his such distress and anguish over the last few days and told me I was completely to blame for him leaving, and everything was my fault from him being in debt to it raining on his parade. I was distraught and cried for days, I called my Psychotherapist to revisit, after being signed off 4 months ago. The a friend told me of her experience with an alcoholic father and all the pieces began to fit, I still feel so stupid that I did not see it coming in the first place, it has totally wiped me out and I have to find my feet again
FreeJR
- 16-Jul-12 @ 8:29 PM
Reading these stories, my heart goes out to you all; I'm sorry to tell you this, and some people may disagree, but in my experience, alcoholics won't change. However much you love them, it won't help, leave and save your sanity which is what I should have done a long time ago. I should know, my ex-partner, and the father of our 14-year-old daughter, is an alcoholic and he will not change, or get help. I've been with him since I was 21 and I'm now 44 and he's 53, and he still drinks to excess when he can, and he becomes verbally abusive and as our daughter puts it "not right in the head" when he's been drinking. He spent all our savings from having sold our house, he has not worked for 6 years, he's been in psychiatric hospital 3 times (it did no good - they just replaced booze with valium), he's been violently beaten up and left for dead, all because of booze. He has been penniless for over 3 years now, I don't want him in my life, I want to chuck him out, but he has nowhere to go and his family won't help, although they know the situation; so they leave it to me. I have to pay for everything and manage everything, and can't have a relationship. When I tell him to leave he says he'll hang himself, and he has tried to do so once; the worse of it is when not drinking he is a nice guy, yes, really, but after a certain point, and now his tolerance is very low, he "turns" into someone else, someone aggressive, nasty & very hurtful. Don't waste your time on alcoholics, they take and take and take again, but it's never enough. The alcoholic can twist everything you say; they are very manipulative, and they wear you down & you end up doubting everything about yourself and can't think straight any more. They lie and lie and lie. I know this from experience. This is where I am now and it is not fun! Leave, save yourselves and your kids, living with an alcoholic is like being sucked into a bog; they will always drag you down, not intentionally, but they will. Love does NOT conquer all when it's a case of the "demon drink". Yes I'm cynical but no wonder. Don't kid yourselves that it will get better, it is very unlikely to; no matter how nice the person is when they're not drinking, if they won't stop you have no option if you want to keep your health and your sanity. Good luck; you HAVE to put yourself first, I wish I had done that a long time ago.
hermione13
- 4-Jul-12 @ 12:04 AM
I'm 20 and my mum has been an alcoholic for as long as i can remember. I used to think drinking alcohol all day, everyday was completely normal, then i got confused and finally realised that it really wasn't an everyday thing for normal people to do. I have never told anyone about it because i can't bring myself to do it, and normally just find myself suffering in silence. She is aways drunk and really isn't a nice person, she shouts abuse at each family member at any chance she gets, it causes the whole house to live in a stressful and emotional place. If my dad doesn't get her alcohol she argues with him telling him she'll divorce him etc my dad is great and will do anything for his family, he just wants a quiet happy life. My younger brother who's 18 finds it hard too he often blames himself for it and argues back he should kill himself then she'd be alright, which worries me. infront of my mums dad she pretends everything is fine and drinks water and turns into this act, of a really nice person. Its so hard to deal with, i just had to express myself to other people that understand me. Its a living nightmare.
Kate24
- 15-Jun-12 @ 9:13 PM
my partner and I have been together for six months now, he has been a alcoholic ever since he was 18 years old. our relationship when we first met seemed great, he is a very caring and loving man. now we have got to know each other better, I can see things that I don't like and bother me more and more the longer we are together. I have fallen madly in love with this man and I know he loves me but there are problems that I do not know how to fix. I have found the last two months we have become more distant, he dose not make love to me as often and always says he is extremely tired, I know he works long hours so I have not been telling him its become a worry to me. I am finding it hard to tell if its the alcohol or if he is loosing interest in me or feelings for me. my partner tells me he loves me but I am concerned that he maybe hiding something. communication has become more limited, he seems more quiet and distant from me. I have found myself drinking more because when I drink it seems to make him feel happier and I feel like I can relate to him more. I do not want to become an alcoholic myself, I really love this man and when ever I talk to him about his drinking problem, he tells me he dose not have that much beer and cant drink at work. he drinks a carton of beer every four days sometimes its less than that. we both smoke and I am addicted to diet coke, I know that dose not help matters either because if I tell him to cut down his beer, he wants me to cut off my diet coke supply. I am very venerable to becoming an alcoholic myself, I was in a abusive marriage before and I had a mental breakdown, I know have been diagnosed with bipolar and border line personality disorder. I want to marry this man, I love him and we want to have a child together. I am really concerned that our relationship will breakdown because of his alcohol problem and I do not want to be one myself. is it the alcohol that has caused him to be quiet and distant, dose it affect love making or erection problems. need help I need answers....CrY FOR HELP :-(
sweeter77
- 12-Jun-12 @ 2:20 AM
i have been with mypartner for 3 and a half years. he has gone to the pub seven nights a week throughout all of that time. i convinced myself it didnt matter as most of the time he.s lovely, never physical but can be verbally nasty if challenged. i have moved out but we have been seeing each other. but tonight he told me to f offagain. all because i wouldnt stay over but he was so drunk i was angry with him. i want more from my life and also recently found myself doing things i wouldnt normally and gradually drinking more myself. so altho i still love him. i.m walking away. the hardest thing ever as i.m51. but surely there is more to life. anyway would appreciate some feedback. thankyou.
buzzy
- 12-Jun-12 @ 12:18 AM
what do i do ?? beem with my partner for 2 years,the first year he hid it very well from me but eventually i relised he has a promblem with drink! i have made excuses for him being like this,he also makes excuses! now he has started hiding drink from me but i find the empties,i dont know what to do its so upsetting to watch him drunk every day,i come in from work and hes drunk we go out and hes drunk! i love him so much but think he may make my life easier to walk away from him,how can i help him??
karen and carl
- 24-May-12 @ 8:59 PM
hi its my son i dont no were to start he doesnt think he,s got a problem with drink he,s lost all his friends and the majority of the family its ripping me apart. a cant take anymore ive tried everything he doesn,t see its him its everybody else,s fault.i feel so ashamed when people tell me what he,s done he,s only 29 why cant he see what he,s doing to me and his family x
subo
- 21-May-12 @ 8:36 PM
I'm a recovering alcoholic who has recently lost a much loved partner through a relapse. I have been sober for the majority of our relationship, but 12 months ago, I told her that if i relapsed again, she shouldn't come back as I'm very aware of 'enabling'. We are going to move out of our house into separate places and see where it goes from there. I'm not violent or aggressive when drunk, just sad and pathetic and she had to move out for a week as she couldn't stand seeing me destroy myself: after all, alcoholism can be a form of self harm. My advice to anyone suffering by living with an alcoholic is to make the bold decision to leave. Whilst it's hard maintaining sobriety through heartache, it has finally given me the courage to properly commit to AA and get a sponsor and get involved rather than turning up for a brew and paying lip service. Bearing in mind I have been sober for most of the last five years, it is a brave step for my partner to do this, even though the love is still there, though maybe not the trust. Bear in mind that most alcoholics are not doing it to hurt you, they are doing it to hurt themselves. But the only way someone is going to achieve sobriety long term is if they do it for themselves and no-one else. It simply doesn't work, pinning your sobriety on a relationship...believe me, I have tried. I am hopeful that my partner will be willing to trust in time, as I believe we have something special, but if she doesn't, this still cannot affect my sobriety. This has to be number 1 priority in any recovering addict's life. And this can also make the transition from drunk partner to sober partner tough to handle. Chances are, that when your partner achieves lengthy sobriety, their newfound love, smiles and remorse are genuine. If you have issue with this, maybe see a counsellor as alcohol can turn love and trust to hate and mistrust very easily. Maybe also use al-anon. Sometimes it might help using the same programme as your partner is, after all, you are just as powerless over alcohol as your partner! I wish you all luck on your different journeys and hope that happiness can enter all of your lives once more, either with your current partner, or someone else who is willing to put you above drink, rather than the other way round! Peace.
itodelpito
- 19-May-12 @ 11:18 PM
i am 12 years old, my dad is an alcoholic. my parents are divorced, so i dont see him a lot. he is not trusted with us for more than one night. he also is an addict. the most vivid time of him being drunk was in 4th grade (im in 6th grade right now). we went over to his house, and he was totally fine, except for a little studdering and repeating of himself. we were going to go to subway, and he stubbled out of the house into the car. i got in the car, and he started the car. my brother, thank goodness, shouts to me "GET OUT OF THE CAR NOW JESS!" and i got out immediately. i then realized without my brother telling me, that my dad was drunk. i couldve died right there. he couldve killed me because he wouldve been drinking and driving. i thank my brother to this day, because he saved my life. back to my story... my dad stumbled into the house and layed on the couch. me and my brother went upstairs and tried to get a hold of our mom so she could pick us up. but she was in wisconsin, so we were stuck there. he jus slept for the rest of the day and night on the couch. we threw pens at him, and he didnt wake up. that night, i remember telling myself that i hated him. that i never wouldve talked to him or seen him again. but, i loved him. to this day, his drinking has brought me down. in history class, we were talking about not making mistakes in our life, and if we do, it impactsd everyone that cares about you. that brought my day down so much, that i went to the counselor in the middle of class. i just cried. i cried for a whole class, which is about an hour long. sometimes, i want to just forget about him. i just want him out of my life. sometimes i think that leaving him will make him not drinking because he is too depressed. but i know i cant. i personally cant leave my dad. i love him. and anyways, he needs my support through this. anyone without alcoholism can say they can quit with no problem. but this is a real sickness. he cant. my mother says he wont ever be able to quit, but i have hope for him. i really hope God will help him, and i, through this. i dont know if you guys watch the X factor, but there was a guy on there named Chris Rene, and he had THE EXACT same problem as my dad. started drugs and drinking at 14, had a kid that he wants to protect his disease from but he cant. when Chris Rene was on the X Factor, my dad was in rehab (coincidentely). my dad loved him because he could relate to him. he looked up to Chris, because Chris has been sober for 9 months. My dad wants to be that amazing. i want my dad to be that amazing. but, as we know, it is very hard. i need to keep believing in him and supporting him through this, and maybe, just maybe, he will become sober and normal. Thank you for reading, and do you have any support for me? or any ideas for me to do to keep my mind off of it? thanks.
Jess
- 8-May-12 @ 3:36 AM
Reading everyones comments has made me cry! Its like reading about myself. I am 27 with 2 beautiful children who i adore! i work full time mostly nights and my partner work durin the day. He drinks a 70cl bottle of vodka every night and has done for a long time! i have had the promises the appoigies and to be honest i just feel stuck! we argue and im the one who always ends up appoligising! its ruining my life! i love him lots but just cant cope! he turns into a bully when he is drunk and i just feel like my head is going to explode! i dont know what to do and im scared that when im olde i will rgeret staying! also im worried about the kids as they acdore their dad. i also had an alcholic dad and it was hell growing up but now he's sober and im sooo proud of him! but im putting my kids through the same as what i went through and i promised myself that i wouldnt put up with what my mam did. i just hope things get better. :(
Dawn
- 8-May-12 @ 1:48 AM
Ive been in a relationship for the last two years with a guy I've known since high school we was both divorced and met up again through friends decided to give it a go it was great for the first few months then he started going missing I was worried out of my brain he would turn up the next day still drunk full of remorse but then carry on drinking the whole day until he fell asleep, this started to be on the weekends he didn't have his kids, then it crept in when he had his kids sometimes running off or hiding in the bedroom while I looked after mine and his kids, it was also creeping in in the week missing work he was self employed so could move things about or not go and not get paid. Daft idiot here payed the bills, fueled the car etc. I have a very good job and earn a lot of money I own my own house and car sometimes he would steal my bank card and take money for his habit and I wouldn't know until I went to the cash machine, I made excuses why he wasn't with me when I visited family or had a party to go to cos he was off his head oh forgot to mention when he was drunk he used coccaine as well !! This has gone on and on until last week I finally lost it I told him I'd had enough and it couldn't go on he agreed and said he would sort it out he went back to his mums and came to see me a few days later saying it was all over he needed to be on his own to sort himself out he has issues that need to be delt with and that I deserved better than what he was giving me ??? And he went, Why do I feel so bad I can't eat or sleep I feel I still love him and want him then I feel that life would be better without him I miss his kids his family who I cared so much for I'm so confused wish I knew what to do.
Harriet
- 3-May-12 @ 6:27 AM
My husband has bouts of depression where he drinks to excess and stays in bed.The latest incident happened this week.We both lost a week off work.I cannot understand what makes him do this.After each episode (this one is the longest) he is very remorseful.When sober he is the most wonderful intelligent person and a very loving father.We have plenty of booze in the house which I have hidden.The best thing I can come up with at present is to water down the dinks he is having.He won't eat and hasn't eaten for five days.I am at a loss to see how this can come to a good conclusion.I try to be loving but am so frustrated at his stupidness that we end up arguing.
Fil
- 30-Mar-12 @ 1:50 PM
I have learnt having been out of the relationship for almost a year, that he fuelled my insecurities.
Dm
- 13-Mar-12 @ 11:37 PM
Dear All, I was married to an alcoholic for 23 years, I also asked him to give up his drinking, I left him 3 times but went back to him everytime as he was the most wonderful husband/father when sober.Unfortunatley the drink was his 1st love and he said he couldn't give it up despite having been hospitalised three times for liver problems, he stayed clean for approx 18 months in total during our marriage. Unfortunately the 4th trip this year to the hospital proved fatal and he died of Liver Disease.We all have choices, either stay with our loved ones and watch them slowly commit suicide through alcohol which will leave you full of guilt as you will question did I do enough to make him stop.Or Leave and keep your sanity :-)
pinky
- 9-Feb-12 @ 9:57 PM
After being with my 2nd husband for just over 11 years, he has finally declared himself as an alcoholic. Unfortunatley for him during our 'roller coaster' of a relationship, he has killed off all the love that I had for him, yet I still let him stay with me - is this through a sense of duty or some deep seated love for him that I don't want to admit to? I honestly do not know. It has not been for the want of asking him to stop drinking in the past, I have begged him but he keeps going back to it and finds another way to scare me to the point that I shake inside. Recently he has joined a local AA meeting and we are going to take the 'plunge' and also go to Relate - this has been my idea as even though I feel so desolute and empty inside, I still actualy like the sober man that I fell for. Apart from this relationship counselling, I do not know where to turn or who to turn to. He has destroyed so much through his drinking that I sometimes fear that this could be the end of us. I'm so emotionally wrecked that I've even contemplated suicide - if not for my children, I certainly think that this would have been a possibility. How can he destroy the only person who he professes to love so dearly??
Sharon
- 5-Jan-12 @ 1:55 PM
I'm 15 and my dad is an alcoholic. My mum left him 5 years ago when I was 10 and I went with her. He is very hard work when he has been drinking which is most of the time, and it was very difficult for my mum to leave him due to his violence when he has been drinking. I grew up around the arguments and the drinking so knew nothing different. I would of been around 7 when I saw the extent of it except being so young I didn't think much of it, just thought it was the norm. As I grew older I became to realise how his drinking affected my mum and older sister, as it had began to affect me. So at the age of 10 and staying in a 1 bedroomed house which was old and very cold I decided I could no longer cope and needed to go back home. My dad was often still getting drunk but now had began to smoke. He constantly swore and made everyone's life a misery. Over the past few years nothing has changed after promising me he will change he still is that same man today, 3 relationships on though. around 10 months ago I went on holiday with him and he got so drunk things got messy, my sister finally gave up and has decided she does not wish to see him, he hasn't made the effort to get in contact either. Today though I had to say goodbye to my stepmum because she is taking her boys and going back to her family as she can not cope with him and his drinking anymore. I love my dad so much and have always been close to him, even if we haven't spoke. I am trying to move on though and know it is for the best to no longer be in any contact with him because each time I am he always breaks my heart. It's incredibly hard watching someone you love destroy themselves, and drink constantly. He wouldn't change for my mum, his other partners and he certainly won't change for his own kids. I was wondering if anyone else has experienced anything similar and how you coped with it all, as I am really struggling to move on with my own life. I can no longer be around the violence and abuse anymore. Please help Laura
laura
- 4-Jan-12 @ 8:08 PM
Hi Annie - you certainly have got a lot of anger stored up inside you there. You talk about "my two young children" rather than "our" or "his" young children - you say the alcohol's stopped now although you appear to be more angry now than when he was drinking. Is it because as an enabler you don't have any control over him now that he isn't drinking any more? Don't get me wrong - I'm not blaming you - I'm only commenting on what you wrote. You've had a lot in your life with partners and family and it's understandable that at some point in your life it was going to come out. I can't advise, I can only say what I feel based on your comments. Lets look at what you've detailed. On the positive side...1. You wanted him to stop drinking - he has. 2. You say he loves the children and they love him. 3. You say he is very gentle, never aggressive. 4. You say he always gives you his money.On the negative side...1. There's obviously been a lot of lying from him regarding alcohol. 2. You feel the smiling is false and that obviously bothers you. 3. There is the emotional disconnect between you. 4. It sounds like you feel he has turned the children again you...You say you want to come to terms with your own feelings. Firstly you need to stop projecting hurt that has been caused to you by other people onto him - deal with what he's done. Secondly, don't forget that alcoholism is a illness, one that apparently he has overcome for the sake of his family. You talk of martyrdom and huge mood swings - these are both symptoms of depression - be it bipolar or manic. If you have a family history of that then I'd have a word with your GP and get his advice. To me you really need to stand back from your current situation and ask yourself what it is that you really want - where do you want to be in 5 years time for example. Sometimes when you're so close to a problem, you can't see the answer staring you in the face. I don't know if this has made it any easier or worse, but remember that the only way to unravel a knotted ball of string is one knot at a time...Good luck for your future
Peter
- 2-Jan-12 @ 8:41 PM
I have lived with my husband for 25 years. A few years ago, he stopped disappearing (binge drinking) when I finally found the courage to expose him to his family. He stopped disappearing but continued drinking. Last year he stopped when I exposed him to my children. He has always been very good at hiding his drink problem from everyone (me too!) - I stupidly kept his secret for years. We are both bad communicators into the bargain. I was always made to feel like it was my problem. Everyone around me (my sister is an alcoholic, my mother a manic depressive) drank. I feel very angry now - alot of uncommunicated, dusted under the carpet and never spoken about emotions - keep coming to the fore in my mind but never get properly vented as not how things are done in his family. Despite begging him for years, even threatening which has now provided me controlling behaviour I never used to have (he his very gentle by the way and kind, never aggressive - always remorseful, sorry etc.and able most of the time to hold down a job.He gives all his money though never takes charge of the bill paying or organisation of anything). I realise now this has been the major issue - the kindness - plus my being a massive enabler - always). He is also always smiling but it feels so false. My situation now is that he craves the love and attention from my two young children - like this redeems him and I have really started to resent him for it. There is a definate emotional disconnect between my husband and me - my punishment to him is a closed heart and lack of intimacy as a way of protecting myself from how he makes me feel. My children love their father dearly. Especially now he is sober - they would not see any reason or understand why I would ask him to leave, I feel even more desparate - like it is me who will be causing pain and hurt. In my mind, I am wondering if it is because I have found a gap where my husband isn't drinking and I can and wnat to finally start coming to terms with my own feelings (really beng honest with myself, starting to think about my own needs including why I attracted such a person - my previous partner of two years - I was just a teenager then - was a drunk and I left the relationship, pregnant at just 18 years old. I certainly feel better knowing my husband is not drinking anymore. Maybe after all these years, I finally accomplished my matrydom mission? I find myself having turned into a passive aggressive I think - I certainly feel a huge amount of anger and tend to lash out to my husband unexpectadly - all sweetness and light and trying desparately not to fail in my marriage and make it work for the children's sake, Then, boom - I feel moody, depressed and very, very angry - explosive. I feel that my children think I am the worse parent. I noticed my personality has changed from confident and outgoing and happy to introvert, miserable and silent. My husband is great socially - very highly able - but I feel he talks crap alot of the time.
Annie
- 2-Jan-12 @ 12:32 AM
Hi Mia In answer to your question "why do we put up with it" the simple answer has to be that we love them - if we didn't it would be so easy to walk away and leave our troubles behind us. You say "you want out but don't know how" - what is it you want out of? Do you want "out" of the relationship or just out of the problems whilst staying in the relationship? Only you know the details of your own situation, but I would say to have a good look at your life... be HONEST with yourself about if your partner is willing and able to change, and if not, then think about getting a life apart. For me it was simple (if hard) - we didn't have any kids together so it was easy to start afresh - if that 's your decision, I would suggest that you put as much in place as possible (sort out somewhere to go, move clothing and personal items beforehand) then talk to him about what you intend to do (so long as it doesn't lead to violence) - maybe the fact that you're ready to leave will be the necessary push to make him change - if not then take a deep breath and make the break. For me it been about 6 weeks now since the break, and while it's still difficult, every day is a tiny bit easier. 2012 could be a good year for you - what your life is going to be like is entirely up to you...Good luck whatever happens - Happy new year
Peter
- 31-Dec-11 @ 7:49 AM
After 16 years of living on and off with an alcoholic partner I've finally decided to make the break for good. I don't really know where my life is going to take me now as I've got so used to being part of a relationship that I'm finding it hard to think of myself in the singular. Like most of you here I've gone through the whole cycle of the drinking followed by the arguments followed by the apologies....only for it to start all over again a week later. I've come to realize that I've been as big a part of the problem as the alcohol itself by allowing it to happen over and over again. My problem is that I truly care for her and it hurts me to see her suffering when she's trying to cut down - and rather than be strong and saying "no" when she asks for a drink I relent and want to believe her protestations that she'll keep it under control. Some of you might think I'm being unfair leaving when she says that she's trying to cut down - but I truly believe that she will never give up whilst I'm still around. This has gone on for so long now that it's affected the whole family, everyone having their say and whilst maybe meaning well, they just inflame the situation even more. Sometimes as the song says "if you love someone, set them free"... I really hope I'm doing the right thing, but I fear that if I don't one or both of us will end up in a box. I'm sorry if this all sounds sad and indulgent, it wan't meant to (I really am upbeat under all the pain and hurt) - I just hope she will come through this long dark tunnel she's in safe and well. Thank you for reading (if there's anyone out there) and if you're religious, please say a prayer for her. Thank you again and I hope any problems you may have will subside too Peter
Peter
- 23-Nov-11 @ 7:08 PM
Hi, I am at my witsend, my partner has a drink problem, but is he an alcoholic?He can drink when we go out and not to excess and is fine.However when he is on his own he will go and buy a bottle of Brandy and drink the lot often lying about it, thinking I can't tell he is drunk, he has driven into work and been sent home so far he has been lucky to keep his job.We live together and whilst he has had a bad childhood and as a result suffers with a stutter, I consider him to be a very fotunate man.We had a lovely weekend away, he was off today and when I rang him from work at 10.00am he wa drunk, denying it of course.Eventually today he has admitted he has a problem and given me all his money and cards.Where do we go from here, I love him to bits but after being in a violent previous relationship with a drinker not sure I can cope.
Angie
- 21-Nov-11 @ 9:38 PM
i am 39 years old and my wife is an alcoholic. We have 2 beautifull girls aged 9 & 6. I totally understand what everyone here is going through, it is like living in a never ending nightmare. Despite my wife recently going to a rehab for 4 weeks, she continues to drink brandy, whiskey or wine almost daily. She does go to aa meetings occasionaly but it doesn't make her stop. The girls are affected by her drunken moods and it is so hard to know what to do. I have made her leave on a few occasions only for her to return, promising she'll stop but never does. I go to alanon meetings when i can and find that they do help. Unfortunately they are midweek at 8pm when my wife is normally drunk, so i need to be here to get girls off to sleep. I know that we are meant to be compassionate, as it is an illness, but how long can i keep putting our girls and me through this madness? I am self employed and can only do bits and peices of work uring school time as i can't trust my wife to collect girls from school sober. Can anyone recommend a legal website where i can get advice on possibly divorce, if i'd need to sell our house even if i got custody of our girls etc? To finish on a more positive note, we all need to be strong for our children and for our own sakes. I found going to alanon has helped. There are people there that swear it has saved their sanity and helped them to live a happy life. Presently, i am feeling very low, but i know that i have to concentrate on the good things in life and to keep positive, and to somehow try and keep calm while living with the madness an alcoholic brings. God bless people and lets try and keep positive and understand we ALL can have a good future, lets not let them dictate it but ourselves!
bp
- 18-Nov-11 @ 12:14 PM
Hi again- embarrassing to go on but just overwhelmed by the similarities-don't want his/her death on my conscience, lovable, witty, smart, competent when not drunk, etc.What can we do? Our martyrdom insults these people. They may often think we're pathetic for putting up with their abuse, when they think about us at all when drunk. They don't want our support- they want us to get angry and act on ultimatums. Otherwise, they will carry on involving us. We are hostages unless we leave the situation. What is "love" anyway? We're all going to feel grief when they or we leave, one way or the other. We are waiting for something that may never happen - they will never love us the way we love them. We are just needing them to feed an emptiness that we can possibly fill with real love and goodness if we're brave enough. Of course it's complicated by finances and children but there are ways around these "obstacles" - that's how we must view them in order to move around them. We have to be dispassionate about this. Get rid of the feelings, perhaps try a numbing medication for a bit, and get on with smililng again. The same way is certain death.My flatmate/ex has had multiple meetings, support sessions with state funded groups- haven't helped at all I suppose because he's relatively young and rebounds to health quickly. But if I hadn't saved him literally from the street, he may not have had the luxuryof attending these sessions. I'm losing my liberal mind!
Salamandada
- 12-Nov-11 @ 7:51 PM
Sorry... just reviewing the comments here and you all seem like lovely, intelligent people. Just makes me so angry that people are prey to such selfish, destructive, delusional types.I think we've got to find out what our weaknesses are so that we can escape the horror. I've never had a happy relationship, abused by mother, etc so I think I know how screwed up I am and know that we've got to forgive these people, be kind, and get away from them. Sorry for rambling. Another saturday night and I ain't got nobody. I've never posted on a blog before and hate facebook. Courage!
Salamandada
- 12-Nov-11 @ 7:31 PM
And courage to all of us - we need it. We must be positive and kind to yourself and others. And get away, somehow,from the incubi and succubi who are dragging us to hell with them.
Salamandada
- 12-Nov-11 @ 7:20 PM