Alateen: Support for Teenagers Affected by Another's Drinking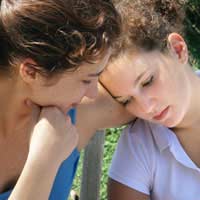 One area where public awareness of the effects of alcohol abuse is low to non-existent is that of the impact of that person's drinking on children with whom they have regular contact.
While there is much debate in the media about underage drinking, there is almost no coverage of the effects of another's drinking on young people. It is not just the parents of children who affect the children in their care if they drink – many young people have negative experiences resulting from having a brother or sister, cousin, aunt or uncle, grandparent or even friend who is badly affected by alcohol on a regular basis.
What Is Alateen?
There are various forms of support for such young people, but one of the most effective is Alateen, part of the AA and Al-Anon family. Available to those aged 11 – 17, it is a meeting-based service.
Often young people are unwilling to enter the social services system because they fear that the information they provide to a counsellor or social worker may be used against the alcohol abuser in their lives. This is never the case, but if this is a fear (perhaps because their home life has included examples of information being used to hurt others in the family) Alateen can be the answer. Because it is anonymous and independent of government and healthcare systems, it allows a teenager to feel more relaxed about revealing their circumstances.
Alateen is available to young people whether they are living with an active drinker now or in the past.
Is Alateen Right For You?
Alateen has a set of twenty questions to answer to decide if it could be right for you, a sample of them includes:
Do you cover up your real feelings by pretending you don't care?
Do you now or did you ever you tell lies to cover up for someone else's drinking or what's happening or did happen in your home?
Are you now or were you ever afraid or embarrassed to bring your friends home?
Are you or were you ever afraid to speak up in case the drinking or fighting starts again?
Do you now or did you ever make threats such as, 'If you don't stop drinking/fighting, I'll run away?'
Do you, or your family, have money problems because of someone else's drinking, now or in the past?
Do you think your problems would be solved if the drinking stopped? Or, do your problems continue even though you no longer live with active drinking in your family or friends?
Answering yes to any of these questions means that Alateen may be able to help you.
How Alateen Helps
Through regular meetings at which they share their experiences and learn from those of others, under the supervision of group sponsors with special training, young people learn that:
Compulsive drinking is a disease
That they can detach themselves emotionally from the drinker's problems while continuing to love the person who drinks
That they are not the cause of anyone else's drinking or behaviour and they cannot change or control anyone but themselves
That they have spiritual and intellectual resources with which to develop their own potential – regardless of what is happening at home or with the drinker
That they can build satisfying and rewarding lives for themselves.
Alateen can be contacted via the Al-Anon Head Office at 61 Great Dover Street, London SE1 4YF or via their confidential helpline on 020 7403 0888 or online.
You might also like...