Alcohol and Crime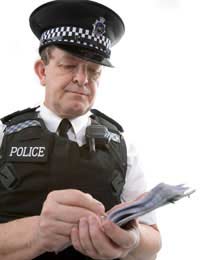 According to the Home Office, the incidence of crimes committed under the influence of alcohol is rising steadily. Last year, almost half of all violent crimes were thought to have involved alcohol. Additionally, just under 40 percent of all domestic violence was attributed to drunkenness. Additionally, research by the British Medical Association suggests that between 60 and 70 percent of all murders were committed by those under the influence of alcohol.
Whilst 90 percent of all British adults drink alcohol, most do so responsibly. But the evidence is conclusive: More people than ever are drinking beyond safe limits, and this is leading them to do things they might not otherwise do. In today's "binge drinking culture", drunkenness has become synonymous with violence.
Discovering what is causing this rise in alcohol abuse, why it is so bound up with crime, and working out what to do about it, is proving a daunting task for a range of governmental and independent bodies.
Why Do People Drink To Excess?
Alcohol's properties as a "disinhibitor" are key to the understanding of its abuse, and in turn, its links to crime. Disinhibitors are drugs that tend to remove people's inhibitions: Alcohol can literally give people the "courage" to do things they might not otherwise do.
Depression and low self-esteem are two of the most common psychological indicators among heavy drinkers. Those with low self-esteem can find they don't have the confidence to face life when sober, and consequently use alcohol to embolden themselves.
Those from families with a history of drinking are more likely to drink to excess, as are people with a history of abuse. Peer pressure, too, is often blamed for heavy drinking: If all your friends are getting drunk, the likelihood is that they will encourage you to do so, too.
Stress both at home and at work also share strong ties with heavy drinking, as does unemployment. Therefore, as the recession takes hold in Britain, it is widely expected that rates of alcoholism will rise still further.
Why Does Drunkenness Lead To Crime?
As previously mentioned, the disinhibiting effect of alcohol leads people to do things they might not otherwise do.
In moderate quantities, alcohol has a rightful place as a social lubricant: it can encourage people, even strangers, to open up in a convivial atmosphere. Unfortunately, another psychological – and physical - property of alcohol is that it is addictive in the short and long-term. Therefore, as one becomes more drunk, it actually becomes more, not less, tempting to drink more. This effect lies at the heart of what has become known as "binge drinking": the drinking of alcohol with the express intention of becoming intoxicated.
Another key problem with alcohol is that it impairs judgement, and is also a mood-enhancer. Emotions, such as happiness, sadness, or anger, can be intensified by alcohol. This factor, in combination with the "liquid courage" effect of alcohol, can lead people to give vent to their emotions: sometimes positively, but all too often, violently.
What Can Be Done?
The British Government is utilising a broad-brush approach to alcohol-related problems in society. It is hoped that by reducing levels of drunkenness in general, levels of alcohol-related crime will drop. The Department of Health's National Alcohol Strategy has implemented a range of campaigns to encourage people to drink sensibly. For example, a 2006 campaign entitled "Know Your Limits" included gritty and disturbing TV commercials. These featured people experiencing "drunken invincibility", and consequently getting hurt or even killed.
Such shock tactics are used alongside educational material in the national media, detailing the safe limits for alcohol intake. The government is also considering legislation which will enforce the printing of cigarette-style warning labels on bottles of alcohol. Whether such campaigns will work in the long term remains to be seen.
In a more direct approach to limiting the impact of alcohol-fuelled violence, several cities around the country have now introduced Safe Glass schemes to encourage pubs to use either shatter-proof or plastic drinks glasses, to prevent people from using broken glass as a weapon. These practical measures do appear to be having some effect in reducing glass-related injuries in alcohol-fuelled attacks.
At present there is still no clear consensus on how to reduce alcohol-related crime, but it must be approached as part of a wider strategy to reduce the general level of alcohol abuse and reliance in the population. As Britain faces economic crisis, it is highly likely that the situation will worsen before it begins to improve. The most valuable thing we can do, as individuals, is to educate ourselves and those around us to the dangers of this most social of drugs.
You might also like...
FLOSSY - Your Question:
Is it illegal for a 17 year old to drink spirits at home? My son's friend brought some round one day & I sent him home again.
---
Our Response:
No it's not illegal for under 18s to consumer alcohol in the home. You can impose your own house rules of course.
AlcoholIssues
- 10-Feb-17 @ 12:53 PM
Is it illegal for a 17 year old to drink spirits at home? My son's friend brought some round one day & I sent him home again.
FLOSSY
- 8-Feb-17 @ 3:34 PM
I was written a report about the relation between alcohol and crime and I found the information o this website very useful and hopefully will pass my assignment!
jojo123
- 28-Feb-15 @ 1:40 PM