Alcohol and Workplace Issues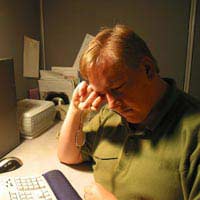 Alcohol issues in the workplace threaten not just the drinker but their colleagues and the wider population. In 1989, the Exxon Valdez oil tanker disaster which caused massive pollution of the Alaskan coastline and was caused in part by somebody being drunk on duty, led to many oil companies introducing a no-alcohol rule for employees plus alcohol and drug screening programmes. Such events are rare, but drinking at work or suffering the effects of having been drunk are commonplace.
Surveys Show How Much We Abuse Alcohol At Work
In 2007 a health insurer surveyed employees who received its health cover in the UK. Nearly a third of those who replied said that they had been to work with a hangover while a sixth reported that they had been drunk at work. One in ten employees revealed that they had experienced hangovers at work on a monthly basis, while one in twenty claimed they were suffering a hangover at work at least once a week.
A similar survey of employers discovered that 77% felt that alcohol was a serious threat to employee well-being and a significant factor in regular sickness absence in the workforce.
While many people would not dream of drinking at work, certain occupations have a 'drinking culture' that encourages consumption to excess and others are historically tolerant of people who are suffering the effects of having drunk alcohol. Because drinking at lunchtime is still socially acceptable, many organisations face difficult situations in managing a workforce that is prone to midday alcohol consumption.
Which Jobs Are Linked To Alcohol Problems
It's not surprising to discover that certain occupations have a higher risk of excess alcohol consumption and consequent health problems – those who work in bars, or manage pubs, are nearly twice as likely to die from an alcohol related illness as other people. Similarly, catering professionals and entertainers have around a 30% more risk of alcohol related illness than other workers, which is almost certainly related to the constant presence of alcohol in their working surroundings.
The link between some other professions and alcohol is not as clear – research is being conducted to find out why hairdressers have a higher than average rate of alcohol related deaths and why sailors, butchers and manual labourers display an increased risk of alcohol related illness compared to similar jobs in other sectors.
The lowest risk rates of alcohol-related death are found amongst men who are farmers, managers or who drive for a living, while women working with children, as well as female managers, have a reduced rate of alcohol-related deaths.
Treatment For Alcohol Issues At Work
Employment legislation demands that employers view alcohol dependence as an illness, requiring them to give the employee opportunities to resolve the problem. However, being drunk at work is, in many industries, such a serious breach of health and safety that it can lead to dismissal.
Alcohol, The Workplace And The Law
UK law does not have a requirement for any employer to have a policy about alcohol, instead the Health and Safety at Work legislation imposes a duty on employers and their employees to maintain a safe working environment. This means that if an alcohol-related accident happens, either the employer or the employee, or both, could be legally liable.
Large companies tend to have policies that may include screening and random testing for drugs and alcohol in the workplace, and this is an area of serious concern for unions, which tend to think that such policies may damage privacy and that cultural change to make drinking unacceptable is a better way to approach workplace alcohol issues.
You might also like...