Alcohol Issues 21st Century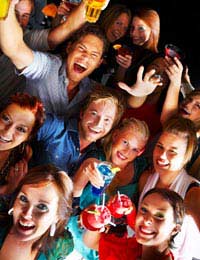 There is true alcoholism, which as an all-consuming condition and very serious indeed. But this is not the only alcohol related condition causing problems in today's society. In the UK particularly there are a number of conditions that are leading to chaos, illness and street crime, and these conditions show no signs of abating.
Binge Drinking
This is very popular amongst younger people and even teenagers, who binge drink excessively as part of cultural entertainment. This is sadly often particularly true of women, and underage drinkers, and will consist largely of drinking way, way too much in a short space of time. It's usually a Friday or Saturday night and is the single biggest contributor to road accidents, fights etc over a weekend, and is what fills up the A&E departments of hospitals. Binge drinking is also often used by nervous or shy people to boost their confidence during nights out, and this can often go wrong too, with the couple of drinks taken for 'Dutch courage' turning into more and more as the evening wears on.
The binge drinker may well be someone who is a moderate drinker or even non-drinker during the week, but whose weekend nights are filled with excessive drinking. Apart from the physical strain this places on the body and particularly the liver, heavy drinking like this can lead to memory loss and blackouts, behavioural problems such as rowing or fighting, or casual sex (often unprotected), lost weekends and a lot of money spent in the bar! It also means that the drinker is vulnerable to having their drink 'spiked', where someone adds drugs to an unattended drink to make them lose control and this is often where rape or abuse takes place and the drinker might not even have any memory of it. This can happen to women or men but it's more common for women to be targeted.
Underage Drinkers
Most people past their twenties will definitely remember trying a few drinks too many in their teenage years, but underage drinking is very much on the up. Young people and teenagers are increasingly drinking more and more, their sophisticated outward appearance making it easy for underage drinkers to buy alcohol in shops and in pubs. The huge range of alco-pops is targeted specifically at younger taste buds, being sugary sweet and hardly tasting of alcohol at all. It's often seen as being 'cool' to be drinking or be drunk, and the tales of swaggering bravado underline this. Children are impressionable and children as young as nine or 10 have been reported turning up for school drunk. It's an extremely worrying trend.
Drinking when Pregnant
There are an alarming number of women who drink regularly and continuously through their pregnancy, and this does not mean the odd glass of wine, but daily and to dangerous levels. We know today that this not only puts extra pressure on what is already a hard-working body, but can affect an unborn child, leading to underweight or premature babies or complications during birth.
Alcohol Poisoning
Alcoholic poisoning is extremely dangerous and can even lead to death. Seen often in binge drinkers, it can creep up on a person and what is even more dangerous is that those drinking with that person are also likely to be drunk and therefore not much help when it comes to dealing with the emergency.
Excessive or fast drinking slows down a person's reactions and as the body becomes incapable of processing the high volume, the brain stops being able to control the body properly. Signs of alcoholic poisoning include vomiting, clammy skin, unconsciousness, urinating helplessly, laboured breathing - if you are with someone who is displaying these symptoms, place them in the recovery position and call 999, quickly. They can slip into a coma from this point, and even die.
Dual Addiction
Alcoholism or alcohol abuse very often goes hand in hand with some kind of other addiction. It might just be nicotine, but often alcohol abuse is seen with heavy or regular cocaine, amphetamine or other drug use. The effects of these drugs can be intensified by using alcohol at the same time, particularly cocaine, and for anyone addicted to using in this manner would be wise to treat both the alcohol and the drug problem at the same time. Giving up one at a time will not work.
You might also like...