Are There Any Benefits to Drinking Alcohol?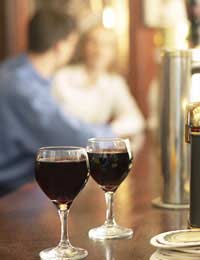 We're always hearing that 'a little of what you fancy does you good' and that 'drinking in moderation is good for your health' but what exactly is moderation and is it true that there can be some benefits to drinking alcohol?
A limited consumption of alcohol does seem to offer some health benefits in a narrow range of situations.
Moderate Drinking
Moderate drinking is difficult to define but one commonly used medical rule of thumb is to say at if a drink is defined as 350 ml of beer, 150 ml of wine or 45 ml of distilled spirits, then moderate drinking could be classed as two such drinks a day for men who are under 65 or one drink a day if you're female (or male aged over 65).
This level of consumption may offer some health benefits:
It can cut the risk of developing heart disease, especially peripheral vascular disease
It may reduce the risk of dying of a heart attack
Research suggests it may lower the risk of gallstones
It appears to reduce the incidence of diabetes in later life.
However, it is difficult to assess how these potential beneficial influences outweigh the negative ones that arise from excess alcohol consumption
Excessive Drinking And Health
There are severe health problems related to drinking too much alcohol:
Cancer of the pancreas, mouth, pharynx, larynx, oesophagus and liver are much increased in incidence in heavy drinkers, as is the incidence of breast cancer
Those who already have cardiovascular disease and who drink to excess are much more likely to succumb to sudden death
Stroke, hypertension (high blood pressure) and cirrhosis of the liver are all much more common in heavy drinkers
Women who drink to excess are up to five times more likely to suffer miscarriage according to some research, and are also at risk of foetal alcohol syndrome in their unborn child.
Health Conditions That Rule Out Alcohol Consumption
There are certain conditions and illnesses that preclude the consumption of any alcohol whatsoever:
People with a history of hemorrhagic stroke should not drink any alcohol
Those who have, or have had, any liver disease or pancreatic disease should avoid alcohol
If dental check-ups have revealed evidence of precancerous changes in the oesophagus, larynx, pharynx or mouth, alcohol should not be consumed until medical advice has been obtained
And anybody who has a family history of alcoholism needs to be very careful about alcohol consumption as it may mean that they are also at increased risk of alcoholism.
Alcohol And Medicines
Alcohol is a blood thinner, which means that when it combines with other drugs or treatments that thin the blood, it can cause a dangerous response, either if you are injured so that you bleed or through the increased risk of gastrointestinal bleeding. The most common cause for unexpected internal bleeding – without injury – in those over fifty is the combination of drinking and taking aspirin to reduce the risk of heart disease. If your GP has suggested you take aspirin daily, and you drink more than the amount described as moderate above, you should talk to your doctor.
There may also be an interaction between alcohol and many very common medicines that you buy over the counter or have prescribed for you. These include:
Antibiotics
Anticoagulants
Many antidepressants
Most forms of diabetes treatment
Some antihistamines
Almost all anti-seizure medications
Beta blockers
Many common pain-killers including paracetamol
Almost all sleeping pills.
You might also like...
First and foremost Alcohol will cost you more than just money, you life is important if not to youwhat about your children etc. Yes everyone likes to feel good and why not living in this country where there are financial benefits payable by the goverment for just about everything. Take control of your life, save money and enjoy life longer let the breweries go bust ro