The Portman Group/Drinkaware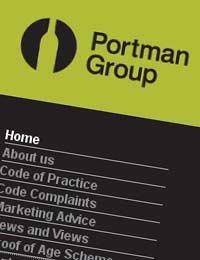 In the UK alcohol abuse became a cause for concern so some years ago a consortium made up of some of the largest drinks manufacturers and producers was created to help advise on and monitor safe drinking.
Setting Up
The Portman Group was established in 1989 with the purpose of promoting sensible drinking, helping to prevent alcohol misuse and abuse, and to help generate a better understanding of alcohol-related issues. The name came from the early meetings to launch the organisation, which took place at the Guinness offices in Portman Square, London.
The Group's members are all big brand names you will recognise, and the importance of the group is paramount in helping to promote and maintain high levels of responsibility within the industry.
Code of Practice
Answering a need for a watchdog in 1996, the Portman Group took on the role of encouraging responsible marketing, launching a Code of Practice on the Naming, Packaging and Merchandising of Alcoholic Drinks, largely in answer to the criticism surrounding the launch and marketing of 'alcopops'.
This Code has now been expanded to cover other forms of advertising, promotion, websites, sponsorship and branded merchandise and is generally credited with improving marketing responsibility throughout the industry.
Drinkaware
In 2004, the Portman Group set up the Drinkaware website to offer comprehensive advice on responsible drinking, including a website for the public to view. It's now a familiar brand and guideline for both industry and consumers alike, offering support and advice on packaging, advertising and safe drinking behaviour. This is becoming more and more relevant as alcohol abuse and alcoholism are still on the rise in the UK.
Since the end of 2006 the Portman Group has transferred all the educational campaigns the group had set up to raise consumers' awareness over to new charity The Drinkaware Trust. The educational campaigns were created to offer consumers advice on sensible drinking and the dangers of alcohol abuse and misuse, and the Drinkaware Trust have been able to promote these in a ground breaking enterprise to help combat alcohol problems. Obvious examples of this campaign include the drink/drive advertisements on the television, the Christmas drinking ads, billboards, all warning messages and all packaging on alcohol itself, particularly the scourge of the alcohol misuse scene, the alcopop.
Advice for the Industry
Focusing the campaigns in this way has meant that the Portman Group can once again concentrate on raising and maintaining high levels and standards of responsibility within the industry. They are able to independently handle complaints from the public about concerns over alcohol packaging or marketing, and the Group offers a free advisory service, based on its knowledge and Code of Practice, to advise on whether the potential promotion or marketing of a new product is likely to be acceptable. It's advice that can save a company a lot of time and money in the long run!
The Portman Group also pioneered proof of age cards as useful ID for young people – please note they now no longer are able to supply these as there are so many other schemes around.
But if you have any queries relating to alcohol packaging or marketing, you can easily find both the Portman Group and Drinkaware online, where you will be able to file a complaint.
You might also like...
@Miriam. It happened to me too a few years ago in another well known supermarket when my children were younger. I have recently been in accompanied by my 17 and 19 year olds and bought a bottle of prosecco without question! Clearly different times, different check-out staff, different rules.
Itistheweekend
- 18-May-18 @ 11:19 AM
Beware all mothers hoping to buy a bottle of rose in Waitrose! I am a disgruntled 40(ish) year old mother of two who was stopped from buying a bottle of rose wine in my local Waitrose store (at 5pm and no, I had not been drinking!) because I had my 13 year old daughter with me in her school uniform. At no point did I indicate I was buying the wine for her, and I gave the cashier my driving licence for the avoidance of doubt - yet the cashier, supervisor AND manager (they said she was the manager, turns out it wasn't at all, as the manager is a man, even though I expressly asked to speak to the manager), all said that unless I could provide ID for my daughter to prove she was over 18, I couldn't buy the wine, because she was standing beside me. The supervisor responded by saying 'Go for it!' when I asked to speak to the manager when it became clear that my protestations were falling on deaf ears. The 'manager' eventually allowed me to buy the wine, together with the rest of my shopping, after lecturing me on the dangers of giving alcohol to children, in a very loud voice with all of the customers watching. Slightly patronising and embarrassing. This was not before two customers offered to come to my rescue, and kindly said they would buy the wine for me. Mortified. I appreciate Challenge 25 is there to protect children and stop anti-social behaviour but as a respectably dressed middle aged teacher, surely I can indulge in a Friday night glass of wine without being made to feel like a criminal? The customer service team at Waitrose just regurgitated the Challenge 25 rules to me, so no joy there. They are obviously so terrified of mistakenly selling alcohol illegally and getting a massive fine that they are prepared to throw all common sense out of the window. Shall I hide my children behind the bins outside Waitrose every time I need to buy anything alcohol related? Honestly, it's enough to drive you to drink. Frankly, I would love an excuse to leave my children at home to avoid bringing them to the supermarket, but it is not always possible. Beware all mothers! Your Friday night G and T is being threatened...
Miriam
- 17-May-18 @ 9:26 AM