Spotting Hidden Alcohol Issues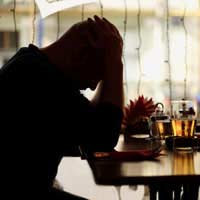 We all know the classic depiction of the drunk: a man slurring his words and trying to pick a fight before starting a sing-song and telling random strangers that they are his best friends! But there are many different forms of alcohol abuse and ways that individuals conceal alcohol issues from family, friends and co-workers.
Gay and Lesbian Drinkers
While estimates vary, it's generally agreed that between 10-15% of the general population could be classed as homosexual. This makes the rates of alcoholism in the gay and lesbian population particularly troubling – because it is estimated that between 20% and 33% of the gay and lesbian population as a whole has a drinking problem serious enough to impact their lives or the lives of others. This compares to the estimated alcoholism rate in the population as a whole which is currently considered to be between 10% an 12%.
The reasons for the higher rate of alcohol problems in gays and lesbians are not clear, but three major factors have been suggested by recent research:
Alcohol may be used as a way of coping with homophobia – gay and lesbian individuals may use alcohol to 'medicate' their feelings of anxiety, low self-esteem or actual fear.
Traditionally, for gay and lesbian people to meet, 'safe' locations were limited to bars and clubs which served alcohol. This is no longer true in large parts of the world and so it may be that the rate of alcoholism will fall if this has been a contributor to the problem.
Some therapists suggest that many young individuals may develop a drinking 'habit' in the years when they are deciding if and when to 'come out' as being gay or lesbian. The stress of making the decision to come out may be high for some people and they may become regular drinkers to try and manage this stress, thus developing the tendency to lean on alcohol in times of heightened tension.
Older Drinkers
In 2009 more than 2,000 adults across the UK took part in a survey about attitudes to alcohol. Researchers discovered that one in ten adults expressed concern about the alcohol consumption of a friend or family member aged sixty or over. While this was the first survey that specifically asked this question, a similar survey in 2001 found that less then one in forty adults related their concerns about an older friend or family member to alcohol consumption.
This has been described as a silent epidemic. Statistics are difficult to obtain because few older people discuss their alcohol consumption with GPs or hospital staff out of fear of being told to stop drinking. A conservative estimate is that 10% to 15% of the health problems in the UK population over sixty could be related to alcohol abuse.
Many medications taken by older people may interact badly with alcohol, causing side-effects, but unless the individual seeks advice, these unintended effects may go unrecognised and untreated.
In addition, those responsible for providing care for older people do not generally ask about alcohol abuse if it wasn't a problem at an earlier point in the individual's life. Late developing alcoholism is increasingly a problem where an individual has managed their consumption until retirement but then rapidly descends into excessive consumption when their work life ends and because older people may have fewer social interactions, alcohol abuse can become profoundly entrenched before it reaches the attention of family or medical or social care professionals.
Finally, the effects of alcoholism can be mistaken for, or hide behind, the natural pattern of aging, so that symptoms insomnia, depression, failing memory and anxiety can all be taken as senility rather than part of alcohol abuse.
Student Life
An astonishing report from the USA suggests that in the past decade, excess alcohol consumption has been a contributing factor in the deaths of over 1,000 students annually and in more than 70,000 cases of sexual assault and rape every year.
While this is the tragic and dramatic, there are even greater consequences to student drinking. In the UK around 25% of university students say they have experienced an academic decline as a result of their drinking, and 11% admit to having damaged property when drunk. Several recent surveys suggest that first year students living away from home are at the greatest risk of alcohol misuse but there are few resources on offer when they are away from campus or outside of term time, which, paradoxically, is the time when the majority say they are most likely to seek help.
You might also like...