About Alcoholics Anonymous and Support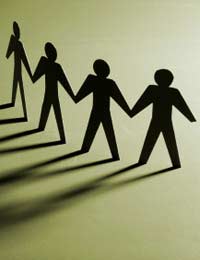 The AA was created around 1935 with just a few members, and now has over around two million members throughout the world. Groups meet regularly to share their experience and help support each other in their bid to get, and stay, sober. They follow guidelines called the 12 Steps which gives the path to recovery some structure.
12 Steps
The 12 Step method was popularised by Alcoholics Anonymous (AA) but this is now adapted and used throughout most support groups including Al-Anon, the group for the family and partners of alcoholics, and Narcotics Anonymous (NA), which is for drug addicts.
12 Steps has proved hugely successful, offering a structure to quitting, and many support groups other than AA also now use the Steps, or an adapted version of their own.
The 12 Steps is the backbone of the AA ethos, and it has a strong basis in religion and spirituality. This might not be for everyone, and in some cases could easily put people off. But the best way to approach this is to look at the underlying message in each point. It's easy to remove the religious meaning from most of the points, and still be able to tackle what's covered – such as admitting the problem (Step 1), making an inventory of yourself (Step 4) or making amends (Steps 8 – 10) .
12 Steps won't be for everyone but the success of their track record speaks for itself. The AA is keen to point out that nobody is forced to follow these guidelines if they don't want to, and will still be welcomed with open arms. But it's very much about going on a journey of recovery and they use a lot of words like 'fellowship' and 'reaching', which can be a bit over the top for some people! However, the AA asks that you keep an open mind and that you simply aim to interpret the steps as suits you best.
The AA also has a policy of total abstinence, recognising that alcoholism is a disease, and there is no cure except giving up completely. There's no compromise on this and anybody arriving at a meeting drunk or hungover will be asked to leave.
The 12 Steps, as designated by the AA are
We admitted we were powerless over alcohol - that our lives had become unmanageable.
Came to believe that a Power greater than ourselves could restore us to sanity.
Made a decision to turn our will and our lives over to the care of God as we understood Him.
Made a searching and fearless moral inventory of ourselves.
Admitted to God, to ourselves and to another human being the exact nature of our wrongs.
Were entirely ready to have God remove all these defects of character.
Humbly asked Him to remove our shortcomings.
Made a list of all persons we had harmed, and became willing to make amends to them all.
Made direct amends to such people wherever possible, except when to do so would injure them or others.
Continued to take personal inventory and when we were wrong promptly admitted it.
Sought through prayer and meditation to improve our conscious contact with God as we understood Him, praying only for knowledge of His will for us and the power to carry that out.
Having had a spiritual awakening as the result of these steps, we tried to carry this message to alcoholics and to practice these principles in all our affairs.
You might also like...
Help my brother is an ahoholic and needs help we live in a rural Fenland town and there is no help near by a and I don't know what to do
Blingo
- 7-Oct-18 @ 7:02 AM