Alcohol and Holidays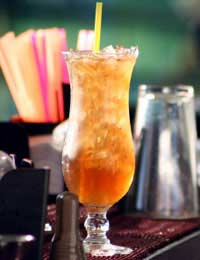 Recent research by an insurance company reveals that as many as four out of five Britons admit to being 'very drunk' while on holiday.
Over an average summer Bank Holiday weekend the average cost of binge drinking to the National Health Service is calculated to be around £25 million, with most of the costs being incurred in accident and emergency departments or in sending out ambulances to deal with people whose over-drinking has led to collapses or accidents.
British Binge Drinking Habits
A survey by the Department of Health suggested that the average holidaymaker expects to down around eight alcohol-based drinks a day, which adds up to 56 drinks over a week's break or nearly 60 units of alcohol, massively in excess of the 21 units for men and 14 for women that is the recommended weekly intake. The survey found that on any given day, the British holidaymaker mixed their drinks too, with those who usually drank beer or wine admitting to consuming up to four cocktails or shots a day in addition to their usual tipples.
While many were aware that they drank more, very few understood that the consequences of drinking on holiday were both short-term: risk of injury or alcohol-related illnesses, and long term such as increased risk of heart, liver and pancreas damage in later life.
Insurance May Not Cover Holiday Binges
The same research also reveals that 70% of those taking out holiday insurance are not aware that their insurer will probably not pay if they have an accident or injury while drunk and on holiday.
There are two risks to excessive drinking while travelling:
1 – it exposes you to dangers that you may not be aware of, and may not be able to protect yourself from
2 – your insurance policy may be invalidated by your being drunk, even if the accident or problem is not caused by your alcohol consumption. Many policies are invalidated simply by your having consumed excessive alcohol.
Holiday Drinking And Insurance Claims
Insurance companies say that the most common problems experienced by those who have been drinking on holiday, and for which they claim are:
32% of claims are made for the loss or theft of personal items such as passports, cameras or mobile phones.
28% of claims are for personal accidents – these are either falls or, very often vehicular accidents and may include treatment for concussion, severe bruising or even broken bones.
A shocking 19% of claims are for injuries incurred during drunken fights.
12% of insurance claims are related to hospital stays as a result of dehydration through excess alcohol consumption.
Financial Cost Of Holiday Drinking
If holiday insurance is invalidated, the cost to the holidaymaker can range from a few hundred pounds up to many thousands. While a new camera or telephone may only cost £250, treatment for alcohol related dehydration starts at £450 per day in Europe and may be much more in the USA, while a hospitalisation for a bone fracture will cost a minimum of £3,000 and could be as much as £25,000 in certain parts of the globe, depending on the severity of the injury.
Be Drink Aware
It is recommended that people monitor the amount they drink on holiday, consume plenty of water to prevent dehydration and do not drive or operate machinery, including golf carts, mopeds and water craft, if they have had more than a couple of units of alcohol.
You might also like...