Alcohol and Women: New Forms of Drinking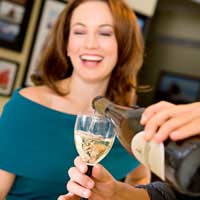 The way women drink and the amount they drink has been a popular news item recently The effects of alcohol on women's behaviour, wellbeing and health are key features that have changed the medical and legal professions' views of women and alcohol.
Female Alcohol Consumption Increases
In the ten years from 1992 to 2002, women's average weekly consumption of alcohol jumped by 45%. In the past five years, more young women have been taken to hospital with alcohol poisoning than young men. And it's not just teenagers who are suffering the effects of over-consumption.
Research shows that problem drinking is actually more common in women who have a full time profession or management position than in unemployed women. In a study published in early 2010, undertaken by the London School of Economics, it was revealed that the higher a woman's education level, the more likely she was to drink alcohol on most days of the week and to report having experienced problems related to her drinking behaviour.
Women Behaving Badly
The way that women drink has changed too. Binge drinking women have almost doubled since 1998, according to research conducted in 2008 by the Joseph Rowntree Foundation. While the actual proportion of female binge drinkers remains lower than men – 15% of women binge drinking compared to 23% of men, that figure for women was 8% in 1998, while the figure for men in 1998 was 22%, showing that the increase of binge drinking in men is tiny, compared to women over the same period. The research defined female binge drinking as 'consuming on at least one day a week more than twice the recommended safe limit of three to four units of alcohol for a woman'.
Why Alcohol Affects Women Worse Than Men
There are three primary reasons that women are generally less able to drink as much as men without incurring serious problems:
Most women are, on average, smaller and have less bodyweight than men – this means that they have less capacity to absorb alcohol slowly so they are more quickly affected by it.
Because women have more body fat than men, by around 10%, they also have less body fluid which means that it remains more concentrated in the bloodstream and has a more damaging effect on the body.
Women actually produce less of an enzyme that breaks down alcohol than men do which means that the alcohol remains in their bodies longer, is less dilute, and has longer lasting effects because it is broken down more slowly.
There are also contributory factors that make some women more at risk of alcohol damage, such as medicines and the natural female cycle.
Hormones Cause Changes To Alcohol Perception
For many women, the two or three days before a menstrual period and the actual period of ovulation, involve the release of hormones that make them more likely to be affected quickly by alcohol. But the contraceptive pill, and possibly some forms of combined hormone replacement therapy (HRT) will have the converse effect - delaying the absorption of alcohol and the time it takes to leave a woman's body. This means that women on the pill, and maybe women on some types of HRT, are likely to be less aware of the effect of alcohol on their systems and may drink more than they intend or realise, having a delayed reaction to the amount they do drink.
You might also like...