Alcohol's Links to Depression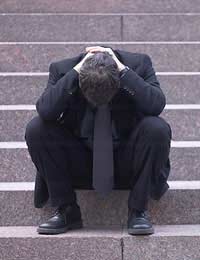 It can be very difficult for an individual to disentangle the relationship between depression and alcohol consumption, because there are many different ways in which the two interrelate to create a complicated situation in which professional help may be needed to establish which is the cause, and which the effect.
How Alcohol And Depression Interact
The various ways that alcohol and depression interrelate include:
Mental health problems such as depression may result from problem drinking
Problem drinking can be the direct cause of mental problems such as depression
A common factor, which might be genetic (inherited) or environmental (learnt) may contribution to the development of both alcoholism and depression in later life
Some excessive consumers of alcohol will become users of other substances to replace/alter/manage their alcohol consumption – this can contribute to mental health issues such as depression.
Alcohol As A Drug
It's not often recognised that alcohol is the second most popular psychoactive drug in the world. Caffeine is the most popular. Psychoactive drugs are those that alter the mood or mental processes of the consumer.
The commonest reasons that depressed people give for drinking alcohol are to improve their mood, to relieve stress, to reward themselves or support themselves in a difficult moment. A substantial minority of clinically depressed people actually report that drinking alcohol makes them feel depressed. This shows that alcohol consumption has to be correctly interpreted as to whether it's a cause of depression or a consequence of it.
Some research suggests that alcohol has what is called a bi-phasic effect on susceptible consumers, which means that while it initially gives the drinker a euphoric sensation, this feeling becomes one of depression as the level of alcohol in the blood reduces. This means that some people may find that drinking with depression actually becomes a problem rather than a solution and can contribute to conflict with family and loved ones, disruption of routines and even to job loss and consequent financial problems that then produce further depressed and anxious influences. Excessive drinking, to the level of dependence (alcoholism) is recognised as one of the three most significant risk factors for suicide.
One Canadian study has found that binge drinking in women can lead to an increased risk of depression.
Dealing With Depression And Alcohol Consumption
It is clear from clinical research that the vast majority of depressed drinkers, given the right support, begin to feel better emotionally within weeks of stopping their alcohol consumption. This is why most GPs and other health professionals prefer to address the issue of problem drinking first, and only then treat symptoms of depression, as they may naturally disappear as the alcoholic loses their dependence on alcohol.
For those people for whom depression is the cause of drinking, rather than the other way round, and who have not consumed alcohol for a month or more, further sources of help may be required. If they still feel depressed at this point, it may be that an emotional crisis has caused depression (exogenous depression) or that they are part of the rarer group for whom depression is a genetic tendency (endogenous depression). In the case of exogenous depression, difficulties with a relationship, unemployment, exam stress, bereavement or some other life problem may lead to a depressed episode and counselling may be helpful in resolving this problem or coming to terms with it.
For endogenous depression, which is often very severe, a GP may recommend 'cognitive psychotherapy' or antidepressants. In all cases, the sufferer will need to continue to avoid drinking alcohol and must maintain the course of treatment they have been offered for several months before they can assess the effects.
You might also like...