Codependency: How Families Enable Alcoholics to Function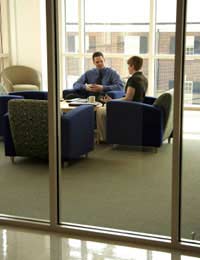 Codependency is a form of relationship that is common in alcoholic homes. It is often learned in childhood and is a pattern that repeats down the generations – and it enables alcoholics to continue to drink.
What Defines Codependency?
Often a codependent person comes from a home that is packed with secrets and family behaviours to protect a person who is drinking. The children of the family tend to develop guilt and shame about the drinker, accompanied by repressed anger against them and a sense of low self-esteem. As they grow up and leave home, this can lead to them devaluing their own preferences and needs to prevent other people rejecting them or becoming angry with them. This behaviour, called 'value compromising' means that when they meet an alcoholic or other substance abuser, they are primed to try and 'rescue' the abuser and will simply put their own lives on hold while they attempt to do this.
Classically codependence is a term linked only to alcoholism or drug addiction but increasingly psychologists use it as a broader definition to include many forms of unhealthy emotional dependence. The 'classic' situation is one in which a drinker becomes drunk, can't go in to work or perform their family duties and is 'rescued' by their partner calling their work to make an excuse for them or undertaking the responsibilities the drinker has neglected.
Who Becomes Codependent
Again, traditionally, the codependent partner has been seen as being the woman in a relationship, but increasingly it's becoming obvious that this may be a pressure put on women by society, rather than an inherent trait. Women are often more relationship oriented but also they tend to be left to undertake family caretaking roles whether they want them or not.
How Codependency Enables Alcoholism
Because codependent people become obsessed with fixing and rescuing needy people, they are actually more aware of the needs and feelings of their alcoholic family member or friend than they are of their own. This means that they are likely to predict the actions and needs of the alcoholic, preparing themselves for every crisis so that the alcoholic doesn't experience the effects of their behaviour. Instead the alcoholic is protected from the results of their drinking and so cannot estimate how damaging their excess consumption of alcohol has become.
Codependent partners often try to control their alcoholic friend or family member but are actually being controlled by them because the starting condition for the relationship is that one person drinks and the other person manages the fall out from that drinking – in other words, the nature of the relationship is entirely based on the alcoholic consuming alcohol.
Codependent relationships generally also involve one partner, the codependent one, doing much more than their share of the family workload, while the excessive drinker does much less than their share.
Recovery From Codependency
Counselling and programmes like Al-Anon can help the codependent partner to rediscover their own talents, preferences and emotional needs. This in turn can allow the problem drinker to begin to experience the consequences of their drinking, which allows them to decide if they wish to attempt to stop drinking. Whether they do or not, their partner will be in a healthier emotional state then when suffering the effects of codependency, and this can lead to a better family dynamic and the chance for any children of the relationship to unlearn the 'family secret' of codependency.
You might also like...
I have lost my health my financial status and i was abused by an aloholic for years. Im ready to finally file a aestraining order. I should have immediately. I am going italone and its hard
Jal
- 19-May-17 @ 6:42 PM
How can I best help my son who is 22 stop drinking? He drinks alone at night in his room often having the equivalent of 2 bottles of wine a night. I have tried talking to him about it and he says he hasn't got a problem or he could stop if he wanted to. He is failing at university. I wondered about counselling which he has refused in the past or getting a personal trainer- he is into fitness he says and he wants to join the army. Is there any help out there? He has a brother and sisters but they are all older and live a distance away. I phoned his dad today to tell him about our son's drinking but I'm not sure that he understands the scale of the problem or believes me.
greensleeves
- 30-Jan-17 @ 11:38 AM