How to Cope With a Recovering Alcoholic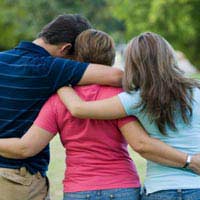 When somebody stops drinking, their family and friends think the problems are over: but it can actually be the beginning of a rocky road, full of unexpected emotional outbursts and unpredictable behaviour.
Recovery Is A Journey
One reason that many alcoholics are encouraged to continue some kind of treatment, whether it's psychotherapy, CBT attending Alcoholics Anonymous (AA), is that it allows them to explore and treat the causes of alcoholism, rather than being entirely focused on the symptoms of their illness – the drinking. AA suggests that some of the behaviours of an alcoholic: restlessness, irritability and discontentedness, which were treated with alcohol, will remain once the drinking ceases, because their root cause needs to be treated too.
People who have been drinking excessively for long periods are often extremely confused about themselves and their role in life, and may need lots of support in exploring what made them drink in the first place and what can replace their drinking behaviours. As they learn to take responsibility for what they have done in the past, many alcoholics develop tremendous shame. As they face the future, they feel a fear which is similar to the fear that sent them to alcohol in the first place, and as they deal with the demands of today, they often experience extreme stress in coping with circumstances that are unfamiliar without the prop of a drink to support them.
How To Help The Recovering Alcoholic
It's important for friends and family to support a recovering alcoholic but that support can be difficult for them because many of them are enablers: people who assist and excuse an alcoholic so that he or she can continue to drink and function in society.
Hand Over Responsibility
An alcoholic in recovery needs to find ways to cope and be responsible for their actions, so former enablers need to step aside and allow the ex-drinker to develop their own coping strategies, even if they struggle badly at times.
Work On Yourself
There are support groups for friends and family of alcoholics just as there are for alcoholics – Al-Anon is perhaps the most established.
Spending time talking to and working through your experiences with friends and family of other alcoholics means that you will develop healthy behaviours, new friends and systems of support that help you when your loved one is morose, uncommunicative, miserable, frustrated, ashamed or whatever else emerges from his or her repressed emotional background. This can be even more valuable if you are an enabler, as it gives you tools to help you step back from your own behaviour so that you can work with your recovering alcoholic to maintain a sober lifestyle.
Demonstrate Participation
Being a participant in recovery yourself is the best way to try and get your recovering alcoholic to focus on his or her own treatment on a continuing basis – weekly meetings, working with a sponsor or sessions with a therapist will be regular milestones on the road to recovery and barriers to slipping back into drinking behaviour.
Make A Sober Environment
You might be continuing to drink yourself, which is your right, but working with your alcoholic to create a supportive, alcohol-free home can really improve the chances of a recovering alcoholic staying sober.
Understand Slips
While it may never happen, knowing how you will deal with backsliding can mean the difference between a minor slip, from which you can both learn, and a relapse into full-time drinking, which can make it tough for any alcoholic to find their way back to recovery.
You might also like...
i am the partner of an alcoholic and i am at my wits end we have tried re hab and my partner thinks he does not need councelling, he was clean of drink for 6 weeks but is now drinking again. i have social services involved as we cant NOT argue when he has drunk. please help me . is this it for my relationship should i give up on him as its destroying me.
jd
- 12-Nov-12 @ 11:00 AM
hi i am an alcohoiic i just want to say rehab is not a solution how they treat person's over ther e you can not even imagen because i spent 75 days over ther when i came back i am full of resenment just sake of my kids i compromise otherwise i want to killmy wife or any person which was innvolved to send me rehab .AA is the only solution it works if let it work .
vicky
- 31-Jul-12 @ 6:59 AM