Family Therapy for Alcohol Issues Family Life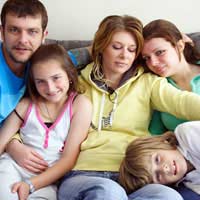 The route through alcoholism can be complicated. One branch of treatment is family therapy, which looks at the emotional life of an entire family, rather than focusing exclusively on an individual who has been identified as 'the alcoholic' – this is because many therapists believe that alcoholism is a family disease and that while one person may be labelled as 'the problem', the family dynamic may cause different members to take on different roles that give the whole family some kind of satisfaction.
What Does Family Therapy Do?
Family therapy may be offered in a group setting or as one family working with a single therapist. In either case, the usual approach is to try and change the family's pattern of relationships to stop perpetuating the problem or problems that have led to alcoholism.
As an example, decompensation is a family trait: it's the result of a process that was formally stable becoming unstable. This could lead to psychiatric illness in other family members, or even the alcoholic being 'encouraged' to drink again so that the family members can reassume their familiar roles. This could be by somebody bringing alcohol into the home and leaving it where the alcoholic will find it, or simply by taking the alcoholic to places where alcohol is available. Identifying such pathology and trying to change those behaviours is a key feature of family therapy.
Who Can Benefit?
Many alcoholics benefit from family therapy but there are large numbers of alcoholics who either don't have contact with their families or who have run through the tolerance of their family members who therefore refused to be involved in yet one more potentially failing process.
On the other hand, when appropriate, family therapy is deeply effective treatment system. It has three main benefits:
Motivating the alcoholic to continue to attend for treatment
Allowing them to focus on the value and benefit of family relationships
Helping them avoid old behaviour patterns that can lead to a lapse into drinking.
History Of Alcoholism And Family Therapy
Back in the 1930s and 1940s the alcoholic was treated in isolation, because their 'disease' was seen as a shameful and frightening one.
By the 1960s there was an unhelpful development that suggested the spouses of alcoholics (who were almost always seen as wives, rather than husbands) were complicit in the problem and had 'chosen' a husband who drank because they were masochists.
In the 1970s and 1980s, a less judgemental attitude was being developed, which looked at the relationships in the family and explored how to improve it, without making a scapegoat of any family member.
Today treatment includes awareness that alcoholism runs through generations and that many people have been affected by the impact of alcoholism long before they, or their family members, pick up their first drink.
AA And Family Therapy
A large percentage of the family therapy on offer today is based in part on the tenets of Alcoholics Anonymous, Al-Anon and Alateen. However, these groups do not have any position on the value or role of family therapy because AA, Al-Anon and Alateen have no opinions on outside issues and do not endorse, finance, or lend the AA name to any related facility or outside enterprise, lest problems of money, property, and prestige divert AA members from their primary aim, of staying sober.
What Defines A Family?
Many therapists define family very loosely to include lovers, close friends, roommates and even colleagues in a professional environment (who may act as surrogate siblings).
You might also like...
My partner is an alcoholic only recently I come into terms with this word. I never occurs into my mind after 17 yrs of being together. I meet him when he was low and I was determined to fix him because I thought love is the most powerful engine to change his life and I can give that. Our life is a roller coaster I thought it's the normal ups and down , there moments that we are happy and I am full of hope that we are leading to better life. This has become cycle and never progresses. We have to argue most of the time when he is not sober that escalated into domestic abuse. He become aggressive to our children, who significantly develop some emotional and psychological disturbance. I am trying to contained the situation due to my belief that separation will affect them, and we can fix it. I am trying to take my children worries away thinking that it will get better. I seek help for my children to avoid the same cycle in the future and it's ongoing. I myself supper from depression , guilt, grief,and anger.I come across to this article and it help me understand what I am dealing with, I cannot fix him. And I have enough of this ... I need to take my children in a more settled, consistent and relax environment. We own the house together, but he does not want to leave, he wants to sell and get his equal share. I dont want that , I want him to walk away and I don't want to cause more instability to our kids. I need legal advise...
Ronnie
- 13-Jul-18 @ 3:14 PM
My alcoholic daughter has recently died . My sons mind was poisoned against mebut now he is a lot better towards me . I have forgiven both of them but my son supported his wife with lots of horrid things that were said and done .My husband also died during this time and I would have liked some support .How do I relate to him now .His father would have said he did not need to be so cruel .
nicka
- 11-Apr-16 @ 4:31 PM
My sister has an alcohol problem and has 2 young sons, i don't know what to do
Dee
- 21-Mar-15 @ 1:31 AM