Teenage Alcoholism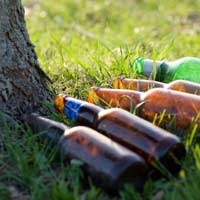 Alcohol is one of the most frequently used substances by teenagers. But while some of us may think it is simply a stage that kids go through, the reality is that it can lead to alcoholism.
What Happens When Teenagers Drink?
There are many effects of alcohol use in teens and not all are ones that a parent or teacher will necessarily associate directly with alcohol abuse. For instance, a teenager may show decreased attention in class. Unfortunately, there is an onus on adults to recognise the signs and symptoms of alcohol abuse because early intervention can make all the difference.
Research suggests that the younger a teenager is when they start drinking, the higher the chance of them becoming dependent on alcohol. Another aspect to consider is that thousands of young people die each year due to a car crash where alcohol was involved. In this way, alcohol abuse can harm in ways we might not always consider.
Teenagers who drink alcohol are also more likely to partake in activities that have the potential to harm. These include unprotected sex or sex with people they don't know. Excessive drinking can also eventually lead to the use of other substances such as illegal drugs.
Why Teens Drink
Teens start drinking for any number of reasons. It may be peer pressure and the need to fit into a social circle and be accepted. Other teens drinks as a way to escape the pressures and stress of everyday life. Some may drink because it makes them feel more adult. Others may have a family history of alcoholism, which when combined with environmental factors triggers their desire to drink and leads to dependence.
What Parents Can Do
One of the most important things a parent can do is to communicate with their teenager. Supervising teenagers and educating them on how to handle stress and peer pressure can help keep teens from using and abusing alcohol. Research suggests that a strong family network can be integral in helping teens avoid becoming dependent on alcohol.
But how can a parent identify if their teen has a problem? Alcohol abuse in teens is defined in much the same way as it is in adults. A teen who is dependent will show a negative pattern of alcohol use that eventually leads to issues such as the desire to drink more to get the same level of intoxication. They will also suffer from withdrawal symptoms and social or school-related problems.
Symptoms of Teen Alcohol Abuse
To identify if your teen is abusing alcohol is not necessarily an easy task. Symptoms vary but some of the common ones include:
Lying
Breaking a curfew
Isolation from family members
Verbal or physical abuse to others
Alcohol odour on their breath
Stealing
Different friends
Treating Teen Alcohol Abuse
Treating teen alcohol abuse can be quite similar to treatments for adults who abuse alcohol. Identifying the underlying emotions and problem behaviours is important to move beyond the drinking. Teens should receive access to specialised counselling for substance abuse.
Treatment may involve both one-on-one sessions and group counselling. Teens might find success with twelve-step programmes such as Alcoholics Anonymous. For some teens, helping to remove an underlying cause is key. For instance, a teen may be turning to alcohol to deal with bullying at school. In this case, directly dealing with the bullying can be the turning point for handling the alcohol abuse.
For other teenagers, avoiding situations that trigger use will be part of their treatment plan. This theme rests on stimulus control, whereby a teen may need to avoid certain social situations where alcohol dominates. Any specific patterns that lead to alcohol abuse will need to be identified and managed, which may mean involving family members in the treatment plan.
Stages of Treatment
Depending on the severity of the alcohol abuse there are different stages of treatment that will be needed. For teens who are still in the first stage of use, prevention is used. This would mean limiting the teenager's access to alcohol or other substances and finding out risk factors for why the teen started using in the first place. While we may tend to view the experimentation of alcohol use as normal, experts warn that we should not underestimate the impact it can have on teens.
For most teenagers, drinking starts out as experimentation and then progresses to alcoholism. It is why we have such a responsibility to educate teens about the risks associated with alcohol but do so in a non-chastising manner. If a teenager is in the more intense stages of alcohol abuse, then it is likely that a combination of medical intervention and targeted support will be needed for recovery.
Giving Teenagers the Right Tools
Teaching teens about the risks of alcohol too often begins after a problem has been identified. As teenage alcoholism becomes more common, adults and health providers need to focus on prevention and how to identify teens who are problem drinkers. If you suspect that your teenager has problems with alcohol, find a specialised support network in your area. Also, don't forget to seek support for yourself as teenage alcoholism can affect everyone in the family. Together, you can all help your teen get back to a healthy, normal life.
You might also like...