Genetics Versus Upbringing in Alcohol Abuse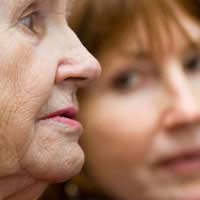 The roots of alcohol abuse vary widely and there is no definitive evidence that defines the relative effects of genetics and upbringing on the development of alcohol dependence.
Genetic Factors In Alcoholism
Some studies suggest that genetic inheritance can cause certain individuals to be more vulnerable to alcohol abuse. Research into monozygotic and dizygotic twins revealed significant correlations between hereditary and alcohol abuse. Where children whose biological parents were alcoholics were adopted at birth into non-alcoholic families they still had higher levels of alcohol addiction than adopted children with no alcoholic parent.
The genes implicated in encoding alcohol metabolising enzymes in the liver are alcohol dehydrogenase (ADH), the micro-somal oxidation system (MEOS) and the aldehyde dehydrogenase (ALDH). All these genes have allele variations of ADH and ALDH linked to the development of, or protection from, alcohol dependence although the exact mechanisms are not yet known. It is clear that some of these alleles are related to different cultural groups with island state inhabitants having strongly diverse alleles as a result of their closed genetic group.
There are also neurotransmitter genes that are associated with increased risk for alcohol abuse even though there is, as yet, no identified receptor for alcohol in the brain.
Personality Factors In Alcoholism
The theory that there is a distinct personality type that 'causes' alcohol dependency has been largely discredited. However there are personality traits like low self-esteem or anti-social traits in adolescence that are positively correlated to alcoholism. Individuals suffering from some forms of depression or anxiety disorders will be more likely to abuse alcohol, although this may not lead to full-blown alcohol abuse, especially if they receive timely treatment for their disorder. Being raised in an alcoholic home, even if there is no sign of alcohol abuse in front of children, increases the risk of drinking earlier in life. Drinking in the teens nearly doubles the risk of alcohol abuse compared with those who start drinking after they enter their twenties.
Social Factors In Alcoholism
The predominant western culture is one where social drinking is considered normal and even desirable and excessive drinking, particularly amongst the young and at male-only gatherings, is popular and promoted. This can lead to friends and family encouraging a susceptible individual to drink to excess, even if they do not themselves drink. Such behaviour is the social condoning of alcohol abuse and can lead alcohol abusers to believe that their behaviour 'causes' or 'creates' their popularity which in turn drives excessive alcohol consumption.
Wider cultural signifiers such as alcohol advertising, the use of alcohol in situations of power and sexual intimacy on stage and screen and the sponsorship of major sporting events by alcohol companies may also influence the susceptible drinker, both consciously and unconsciously.
Familial behaviours are key to the relationship a drinker has to alcohol – if the family responds positively to alcohol advertising, eg if when driving past a sign for a beer brand, the father mentions that 'he'd love a beer' and the mother agrees that 'a cold beer would be great right now' then the children are likely to receive the message that alcohol is a central ingredient to family life.
If, on the other hand, a family points out that actors on a stage are drinking cold tea from glasses and pretending it's whisky, or that anybody who actually drank as much alcohol as a film character pretends would have passed out rather than having a great romantic experience with a new partner, then children will learn that alcohol consumption is often both a myth and subject to exaggeration, so they should view claims for its role in a fulfilled social life with some doubt.
The Complexity Of Factors in Alcohol Abuse
Because alcohol abuse is a major public health issue and an economic burden on individuals, their families and the state, it is important to explore both the genetic and the familial and social components of the condition so as to create better education and treatment to prevent, limit or help cure the condition.
You might also like...