Does Family History Influence Choice of Relationships?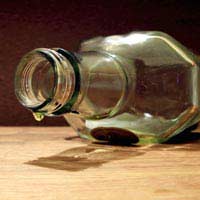 It has long been known that adults who were raised in alcoholic homes have certain typical characteristics. These people are called 'adult children' because one of their behaviours is to continue to act in immature ways (childishness) in regard to their relationships.
Characteristics Of Adult Children Of Alcoholics
It is likely that those who grew up in alcoholic households will demonstrate:
Low self-esteem – this causes them to be judgemental of themselves and of others. They disguise this characteristic by trying to be perfect, by take responsibility for all the actions and feelings of others and trying to control all events, becoming angry when things don't turn out as they had hoped but concealing their anger and hiding their resentment. Other elements of low self esteem include doing everything for other people because the individual does not believe they are lovable in themselves.
Isolation – this tendency is particularly developed around authority figures who play the roles of parents in the individual's mind. This characteristic causes people to feel uncomfortable when others focus on them, and to become mute when they feel threatened by authority figures. Adult children of alcoholics tend to be approval seekers and people pleasers and will develop extreme loyalty despite all evidence that the loyalty is undeserved and are terrified of rejection.
Poor relationship choices – the children of alcoholics have a high tendency to choose relationships with emotionally unavailable people. This characteristic means that partners with addictive personalities are most attractive to them and that they have a strong tendency to mistake love for pity and rescue.
Choosing Emotionally Unavailable People
Because adult children of alcoholics can have high degrees of immaturity and dependence in their personalities they tend to be afraid of rejection and terrified of being abandoned. This means they will choose alcoholic or drug-addicted relationships which mirror the way they were brought up by their parents. But it also means that they will tend to mirror their upbringing in a number of ways, such as:
Remaining in jobs or relationships that are harmful to them
Avoiding healthy and rewarding relationships or deliberately sabotaging them
Blaming themselves if they are ignored and rejected by others and redoubling their efforts to please people who reject or mistreat them
They endure feelings of denial, isolation and misplaced guilt because they do not realise that these feelings are symptomatic of deep-seated family problems.
These historical family problems emerge in the adult child as feelings of hopelessness and helplessness. If they do not manage to find expert help they will tend to become locked into a series of self-destructive behaviour patterns.
Because they feel helpless and hopeless, they will develop a strong desire to be alone and not have to deal with anybody else. This feeling with alternate with deep guilt about their inability to 'love' or 'support' their emotionally unavailable partners. If they have chosen an alcoholic or addict as a partner in life, they will tend to try and 'rescue' or 'save' them, leading to enabling behaviour such as funding their drinking or drug use, making excuses for their behaviour and even drinking or taking drugs alongside the addiction to try and keep them safe and control them. In extreme circumstances it has been known for adult children of alcoholics to enable their alcoholic spouses to drink, even after those spouses have become unable to obtain alcohol themselves, because of ill health or lack of income.
In the workplace this behaviour will become workaholism and a need to be irreplaceable, which can lead to bouts of exhaustion and workplace stress which can in turn lead to the loss of employment which feeds the feeling of being inadequate and having to try harder in future.
Help For Adult Children
There are may ways of obtaining help, ranging from family and marriage counselling, through to cognitive behavioural therapy, religious and spiritual support or the membership programmes Al-Anon and Alateen. This help can allow adult children of alcoholics to understand their own behaviour and how it has affected by someone else's drinking.
You might also like...